Final Cut (Coupez!) | Review
Primetime Cut: Hazanavicius Returns to Absurdity with Overdone Zombie Remake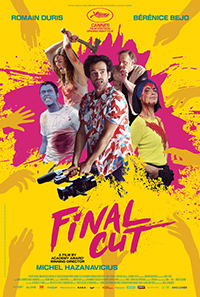 Michel Hazanavicius has certainly established his affection for the nonsensical, making a name for himself with the Bond spoof franchise OSS 117 before segueing to international acclaim with 2011 Best Picture Winner The Artist. He returns to a mixture of his preferred interests in a zombie comedy about filmmaking with his eighth film, Final Cut (Coupez!) which plays like an odd intersection of those aforementioned titles.
A remake of a hit 2017 Japanese film directed by Shinichiro Ueda, Hazanavicius stays true to the spirit of the original, employing several direct elements from it while also working with his usual collaborator, actor and wife Berenice Bejo. And much like the original, there's a certain level of patience required to wade through the first two thirds of the film, with hokey slapstick and commentary about the sacrifices of filmmaking (especially evident in this version) before unleashing a gratifying third act which almost makes the first seventy-five minutes or so worthwhile. But not quite.
A group of actors making a film about zombies are struggling to film the final scene. Remi (Romain Duris), a shrill director, castigates the lead actress (Matilda Anna Ingrid Lutz) for failing to cry properly after thirty-one takes. Suddenly, the cast and crew are attacked by actual zombies, apparently due to the shoot transpiring on ground bearing a curse thanks to experiments done by the Japanese army (even though they're in France). As everyone falls prey to the onslaught, the credits roll for a film called Z. Backing up to a month earlier, it's revealed Remi was approached by Japanese producers to remake a zombie film for a new streaming platform. The only catch is, the project will stream live and transpire in one continuous take. Initially balking at the offer, he's convinced by his wife Nadia (Bejo) and his daughter Romy's (Simone Hazanavicius) reverence for lead actor Raphael (Finnegan Oldfield) to accept the offer. In the weeks leading up to airtime, Remi's relationship with both his cast and the producers becomes increasingly strained. And when the day of the shoot arrives, the production is besotted by problems, diving into behind-the-scenes to explain the inane product revealed earlier.
The set-up to get to where Final Cut eventually ends up is extensive, like a joke whose anecdote is too lengthy to care about the punchline. What's missing, strangely, is the cultural recalibration Hazanavicius might have better employed as directly referenced in this parody within a parody. If the original felt more attuned to culturally specific humor of its target audience, Final Cut doubles down about the surface issue faced by a French film crew shackled to a specifically Japanese script while forgetting to inject any intelligent humor. In other words, the necessary self-reflexivity is superficial, and the comedic aplomb required to make the initial thirty minute product and then the month-long pre-production is lacking. Had there been more finesse in the lead-up to the finale, this might have been a formidable comedic gem from Hazanavicius instead of something living up to the mantra of Roman Duris' director who excels in making products fast, decent and cheap.
But by the time we get to the live streaming production, where every conceivable problem occurs simultaneously, the energy spikes significantly, even considering the film is repeating material we've seen before. Perhaps a key to deciphering the audience is fed to us directly, when Bejo's Nadia explains to their daughter, "But you have to like zombies," when questioned if the script was any good. And this is true—for those burned out on zombie comedies ever since Edgar Wright's Shaun of the Dead (2004) popularized the craze, Final Cut might seem like old hat. But there's a certain glee evident when we're privy to why the first thirty minute product was so inanely bad, and terrible slapstick spins into the humorous silver lining the film so desperately needed to tap into earlier.
Bejo, who has appeared in nearly all of her husband's films, seems to be having a lot of fun as a retired actress who reveals a rather toxic relationship to her craft. Romaine Duris is a standout (who previously co-starred with Bejo in Populaire, 2012) as the resourceful, but stressed out director, as is Jean-Pascal Zadi as his affable composer. Others are playing up the usual cliches, such as Finnegan Oldfield as a rising celebrity diva who keeps getting compared to Adam Driver, Matilda Anna Ingrid Lutz as his social media obsessed co-star and Gregory Gadebois as a closeted alcoholic whose addiction complicates the shoot. These are tried and true elements required for this subgenre, with Gadebois recalling the Jim Broadbent character of Bullets Over Broadway (1994) or the Denholm Elliott lush in Noises Off! (1992). Most of the French cast is eclipsed by the transfixing Yoshiko Takahara, playing the same role as producer from the first film.
It's difficult to fake a cheap production and Final Cut also feels a bit too polished considering the actual zombie project looks quite impressive thanks to DP Jonathan Ricquebourg (The Death of Louis XIV, 2016), while esteemed composer Alexander Desplat also brings a sense of finesse at odds with the film's ragtag insinuations. And while Final Cut doesn't feel fast or cheap, it at least brings itself to a level of decency—-but had there been intricate, melancholic humor or a semblance of empathy in the lead up to the finale, Hazanavicius might have something resembling Frank Oz's Bowfinger (1999).
Reviewed on May 17th at the 2022 Cannes Film Festival – Opening Night Film. 110 Mins
★★½/☆☆☆☆☆