Something to Talkie About: Chazelle Swings Hard with Homage to Hollywood's Unruly Infancy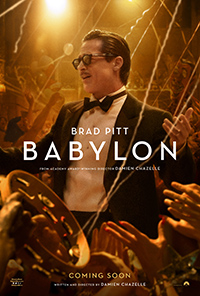 If there's a film deserving of the Leone-esque moniker Once Upon a Time in Hollywood, it's the galvanizing and chaotic Babylon, the fifth film from Damien Chazelle which continues his self-indulgent odyssey of cinematic form by going back to the glory days of silent cinema.
Straddling the exact same transition as depicted in 1952's Singin' in the Rain, where the introduction of the 'talkies' ruined most of Tinseltown's first titans, it's an exploration of the studio era's first plunge into its own narcissistic nether world, where evolving tastes and technology turned a mythological Wild West into a 'paradise lost.' Expertly utilizing his ensemble to resuscitate an amalgamation of immortal personalities from the silent era, Chazelle's blurry focus on a quartet driven to desperation or oblivion is bombastic and impassioned.
Brad Pitt (a John Gilbert/Douglas Fairbanks Jr. type) and Margot Robbie (a Clara Bow/Joan Crawford approximation) are standouts, with relative newcomers Diego Calva and Jovan Adepo allowed a bit less character range, the former representing the permeable glue connecting the narrative's major players. Owing much of its internal navigations to Stanley Donen, it's a film which simultaneously feels like too much and yet not enough, but is, at times, so frenzied, it reaches a sense of zealous cinematic perfection. Justin Hurwitz nails a boastful score in reverence to the period (with "Voodoo Mama" channeling the energy promised by Chazelle's title, and also recalling the infamous "Hot Voodoo" tune crooned by Dietrich in Josef Von Sternberg's Blonde Venus).
Those who can appreciate the lavish excessiveness of Chazelle's latest, which is, arguably, consciously superficial as it concerns ravenous, disillusioned humans obsessed with a mirage which will only ravage and ruin, should be able to easily forgive its faults—-but it's likely doomed to be a film requiring distance from its raucousness, sifted through by the same sorts who enjoy drifting through the ruins of decimated eras.
★★★★/☆☆☆☆☆