The Pale Blue Eye | Review
Poe Boy: Cooper Fails to Find the Exquisite Beauty in Eerie, Dreary Period Mystery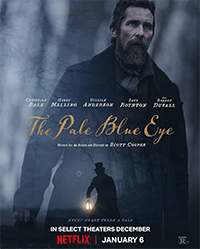 You'll certainly be reduced to the mindset of the weak and weary after pondering the endless midnight dreary of Scott Cooper's The Pale Blue Eye. Yet another stab at genre following his more vivacious (by comparison) examination of the Wendigo legend in 2021's Antlers (read review), this adaptation of the 2003 romanticized plundering of Edgar Allan Poe by Louis Bayard likely reads better as printed pulp than visualized as a glossy, gothic whodunit.
Cooper's third outing with Christian Bale (serving as producer) following the stilted melodrama 2013's Out of the Furnace (read review) and their portrait of the harrowing heritage of white man's violence in Hostiles (2017) denies the celebrated actor any room to stretch (seeing as he plays another disenchanted wretch who's headhunted for his specific skills as a dramatic catalyst). Instead, its meager bits of interest are relegated to some accidental loony-ness from supporting cast members and an oddly amusing turn from Harry Melling as the youthful, pre-alcoholic Poe. A somewhat lavish ensemble cast sometimes feels wasted in this antiquated style of antediluvian storytelling, where red herrings abound and hysterical exposition bastes the climax in forthright conclusivity.
In 1830, New York, a West Point cadet is found hanged in the woods, his corpse later mutilated while it's retained at the military academy after examination by local physician Dr. Daniel Marquis (Tony Jones). The superintendent (Timothy Spall) and his subordinate, Captain Hitchcock (Simon McBurney) immediately employ veteran detective Augustus Landor (Christian Bale), who immediately deduces the hanging was not suicide, adding to the horror of the cadet's heart being cut out of his chest. While interviewing several of the dead man's colleagues, he stumbles upon the precocious and strange Edgar Allan Poe (Melling), who he secretly employs as his aid.
When another intimate of the dead cadet also turns up murdered and ravaged in the same manner, it appears a serial killer is on the loose. As Landor continues his investigation, he discovers occult symbols, requiring the aid of his confidante, Jean-Pepe (Robert Duvall), an expert in such matters. Meanwhile, Poe is drawn to the doctor's daughter, Lea (Lucy Boynton), a sickly beauty who seems the most well-adjusted member of a dysfunctional family, including her brother Artemus (Harry Lawtey), and mother Julia (Gillian Anderson). A local bar maid, Patsy (Charlotte Gainsbourg) also holds key information allowing Poe and Landor to deduce exactly what's going on, and why, before it's too late.
While Bayard's original source novel is clearly playing with narrative tropes of the period as well as providing origin stories for some of Poe's iconic works, like his short story The Tell-Tale Heart (from where the title for this is lifted) and his poem "Leonor," among other texts (Cooper can't help himself by framing an irate raven in one passing frame), as a film version the stellar mood provided by cinematographer Masanbou Takayanagi quickly stagnates thanks to the languid pacing. As Poe, Melling conjures a zany kind of energy, a welcome cry from something like the John Cusack performance in James McTeigue's dismal The Raven (2012), in which a serial killer was aping the author's works, forcing the disconsolate writer to assist with the investigation.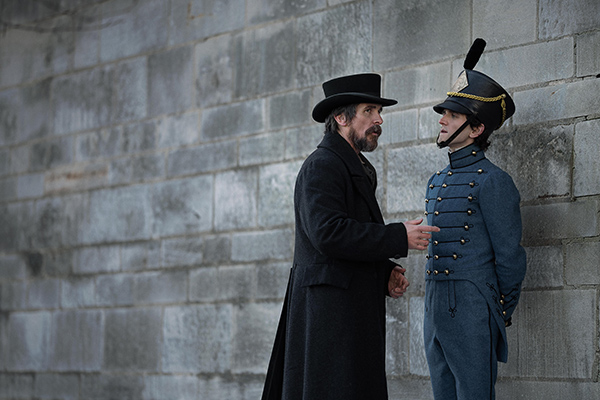 But The Pale Blue Eye is a far cry from the masterworks of Poe, and this homage feels like more of a disservice to his tortured literary legacy. Bale's presence feels workmanlike, yet steady, and the grim reveal is somewhat predictable thanks to hoary storytelling tropes willfully withholding information from the audience. Spall and McBurney are on hand to shout their lines like withered buzzards, while the likes of Toby Jones and Charlotte Gainsbourg are altogether wasted. Gillian Anderson seems to understand something extra is needed, but the perverse relationship she shares with both her children would have wisely been played up by a more interesting storyteller. Technically speaking, like all of Cooper's films, The Pale Blue Eye is visually appealing, but is hobbled by a dependence on basic ideas and inspirations, which leads to nowhere but bland artistry.
★★/☆☆☆☆☆