This Property is Condemned: Franco Mines Interesting Ideas in Faulty Debut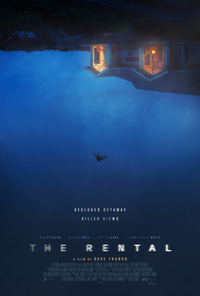 Egregiously annoying characters can be either a blessing or a curse to a film, and sometimes the trick lies solely in paralleling individual humanity alongside paradoxical complexities which define every person or character. Actor turned director Dave Franco, along with co-writer Joe Swanberg, unfortunately hits on more of the latter with his directorial debut The Rental, in which a quartet of unlikeable characters are crushed under the yoke of microaggressions and eventual infidelity to obscure what happens to be the film's novel twist, one good enough to suggest potential franchise possibilities.
To celebrate the seed funding of their latest venture, the successful Charlie (Dan Stevens) and his co-worker Mina (Sheila Vand) secure a gorgeous vacation rental home for the weekend. Along for the ride are their respective significant others, including Charlie's girlfriend Michelle (Alison Brie) and Mina's boyfriend Josh (Jeremy Allen White), who happens to be Charlie's younger, somewhat irresponsible brother who has dashed his future options by dropping out of school to become a Lyft driver. Some troubling issues about Mina's inability to secure a reservation thanks to her last name cause immediate tension with the property manager, Taylor (character actor Toby Huss giving the film its most realistic performance). As the two couples settle into their surroundings, lurking sexual tension between Charlie and Mina surfaces.
What begins as an interesting hierarchical microcosm of privilege in the vein of Sebastian Silva's Tyrel (2018) quickly becomes something much more banal. Sheila Vand, a standout in Ana Lily Amirpour's breakout A Girl Walks Home Alone at Night (2016), initially seems to be the crux of what The Rental is all about until we learn she's merely a catalyst for the pallid infidelity which informs the plot's slippery slope.

The psychologizing of Charlie and Josh are about as basic and vaguely attenuated angles of masculine stereotypes as their names would suggest, which leaves Alison Brie to provide the film's necessary levity as an obnoxious white woman who segues, at least, from passive-aggressive victim to hopped up comic relief right before the film's other shoe drops. The moral dilemma, is, at best, an exercise in selfishness—by not calling the police pertaining to an ominous (and illegal) discovery in the rental property, Charlie and Mina are allowing their significant others to be doubly endangered, vulnerable to whatever nefarious plot undertaken by the voyeuristic host.
At worst, The Rental plays like many of Swanberg's highly contained odysseys of the heteronormative but with a genre edge, where he was perhaps eventually headed with after Digging for Fire (2015). The narrative spins its wheels briefly as a conversation piece about the ills of monogamy, and then makes a daring dash into slasher territory with a twist which is inventive and chilling, and while we realize The Rental is about more sinister issues by its final frames, it isn't enough to justify the elongated prologue which got us there.
Although its finale is technically reminiscent of Bruno Dumont's ostentatious art-house drama Twentynine Palms (2003), the entirety of The Rental feels as if it could have been condensed into a satisfying episode in a television series like "The Twilight Zone" or "Tales from the Crypt." Nicely shot by Christian Sprenger ("Atlanta," "GLOW"), The Rental is an interesting situational effort which would have benefitted from tighter storytelling and better characterization during its prolonged set-up.
★★½/☆☆☆☆☆