Carpet Burn: Kulumbegashvili Unnerves with Exacting Debut of Violence and Veneration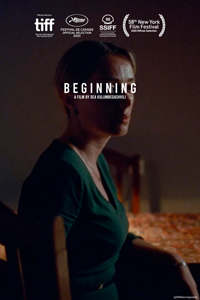 For decades, the international presence of Georgian cinema was thanks (mostly) to the output of Otar Iosseliani, and over the past decade or so, a variety of arthouse offerings from the country resulted in late period reverence for directors such as Zaza Urushadze and Zaza Khalvashi (both who passed away in 2019 and 2020, respectively). And following on the formidable wave of Levan Akin (whose sophomore feature And Then We Danced bowed at Cannes) is another Cannes alum, Dea Kulumbegashvili, making her directorial debut with a breathtaking scourge of a film, Beginning.
Reminiscent of the sleeping rage teased out in the Romanian New Wave offerings, Kulumbegashvili arrives like the feminist descendent of a Cristi Puiu or a Cristian Mungiu with a grueling masterwork which oscillates between strident peaks of frustration and anxiety, meditation and poetics. Rivaling the heights of something like Chantal Akerman's 1975 masterpiece Jeanne Dielman, 23, quai du commerce, 1080 Bruxelles, it's a potent exercise of hypervigilant interiority as relayed through dazzling camerawork and a hypnotic sound palette. It's a debut which also presents a fantastic new voice from an obscured, enigmatic frontier, and if Georgian cinema has thus far eluded contemporary arthouse iconoclasm, Kulumbegashvili brings it the fore with her French co-production.

Yana (Ia Sukhitashvili) is married to David (Rati Oneli), the leader of a Jehovah's Witness missionary in a remote mountainside village of Georgia, the inhabitants of which are mostly Christian Orthodox. During service, their Kingdom Hall is viciously attacked by extremists and burned to the ground, the inhabitants, including Yana and her young son George, escaping just in time. CCTV footage captures the identity of the attackers but the local police force asks David to delete it and drop his complaint, which he isn't about to do. While they hope the events will lead to a transfer through their organization to a better post in a larger city, David immediately sets off to oversee the construction of a new prayer hall, and Yana is approached at home one evening by a local police officer (Kakha Kintsurashvili). The meeting results in the officer threatening then assaulting Yana, and as she grapples with the aftershocks, eventually finds herself revictimized by the same officer when he returns to rape her.
It's lulling opening sequence cascades into a violent inferno, which also sets up a striking visual motif. The trauma and devastation of the fiery assault is similar to the framing for the other moment of brutal violence in the rape sequence. If we're distracted by either the smoke and blazes or the impressive physicality of the actors, these long shot sequences also imply how base human actions and instincts, for both victims and perpetrators, finds us at our most removed, or distanced from humanity—as such it's difficult to see ourselves or others.
That the opening sequence also relays Yana's increasing estrangement from both her marriage and a religious belief system which compound her helplessness and invisibility, is also of significant importance, juxtaposed with Arseni Khachaturan's eventual close-ups of her. At peace in nature, where the stillness of the environment results in a silencing of the soundtrack (in which she also 'plays dead' while her son tries to rouse her), this established safe space is also violated when she's assaulted outdoors.
The initial interaction between Yana and the officer is a medium shot, at first focusing on her while he's off camera, reacting to his increasing indiscretion which cements her powerlessness on all levels. The violence and aggression of the conversation are an assault in themselves, and as we come to find, merely a preface for the ordeal to come. Then, with just a quiet tilt of frame, the terrifying intensity spills over into the first sexual assault as the camera pans to the officer beckoning her over to the sofa. It's a crushing, agonizing moment. Sukhitashvili is a study in stoicism and resilience until the eventual revelation to her husband, which is itself the result of another grisly violation through a taped version of her first altercation with the police officer.
The electronically inclined score from Nicolas Jaar (Dheepan, 2015; Ema, 2019) provides another layer of emotionally infused cues, where it's silence connotes something more of a wishful oblivion than peace or absence/escape. At every turn, her actions and will are undermined, from comforting her son after the attack on the prayer hall ("Let's get you a kitten so you can leave him alone," admonishes David) to her revelation of rape to her husband, hardly supportive of the trauma she's endured.
If Kulumbegashvili title initially seems simplistic, it takes on an icky, complex duality for Yana and David, who believe a new start through his transfer to Tbilisi could potentially be starting over. But there's no real possibility of a new beginning for Yana, who assures her husband quite abruptly when he admits he would like to forgive her for the rape – "You won't." While initially about an act of extremist terrorism from another religious group, Beginning really concerns the extremist actions and compounded trauma endured by women within whatever hierarchy binding them.
It's final, elegiac moments formulate a catharsis unimaginable from what's come before with a moment of graceful magnitude. Featuring Carlos Reygadas among its executive producers (whose 2007 title Silent Light bears some similarities in its examination of a Mexican Mennonite community), Beginning was notably edited by Matthieu Taponier (of Laszlo Nemes' Son of Saul, 2015) and arrives as a gorgeous if grueling 35mm masterpiece.
Reviewed virtually on September 17th at the 2020 Toronto International Film Festival. Discovery Program – 125 Mins
★★★★½/☆☆☆☆☆