Battle of the Bilk: Blakeson Returns with Topical Con Comedy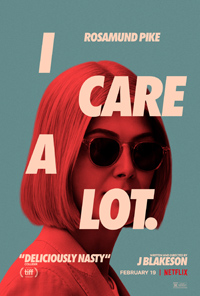 "There's no such thing as good people," croons the dulcet Rosamund Pike over the opening sequences of I Care A Lot, the latest twisty narrative from J Blakeson, the director's third feature which showcases a return to form evidenced in his underrated 2009 debut The Disappearance of Alice Creed. His latest film is also about disappearances, of a sort, showcasing the wonton elder abuse made possible by the US government's principle of Parens patriae, meant as a protection for older vulnerable adults in which the state can assign the emergency use of 'professional guardians' to oversee someone's estate who isn't able to care for themselves or attached to family members able to exercise their best interests.
Blakeson explores an insidious cottage industry wherein grifters masquerading as caretakers profit from selling off the assets of vulnerable retirees, which includes gaslighting the individuals and family members by making them overmedicated wards where they're virtually held captive against their wills. Such is the introduction of Blakeson's 'protagonist,' whose observation is indeed true of the characters in his latest milieu – not a one of them is a 'good' person.
Marla Grayson (Pike) is a legal conservator who earns a swank living defrauding her elderly clients. Well-versed in spinning potential ethical violations in her own favor, she's introduced in a courtroom brow-beating the son (Macon Blair) of one such captive, dementia-suffering client. Fast-forward to a new potential placement, a "cherry," as referenced by her right-hand employee (and lover) Fran (Eiza Gonzalez), when they learn of an elderly woman in an immaculate, expensive home without any relatives to speak of. Referred to them by Dr. Amos (Alicia Witt) in exchange for some shares in a stock Marla holds, a fudged report allows for an emergency decree to oust the unassuming Jennifer Pederson (Dianne Wiest) from her home and bounce her into the locked facilities of a care facility without access to a phone. Jennifer seems to have a few extravagant secrets in a safe deposit box, and come to find, someone unexpected (Peter Dinklage), who may or may not have ties to organized crime, wants to know of the older woman's new whereabouts.

Blakeson's Alice Creed is also a criminally minded thriller about a kidnapped heiress engaged in a rather dysfunctional triangle with her two captors, another film which excellently utilizes unexpected queer dynamics aggravating our stereotypical allegiances with who's being victimized and who is the oppressor. An ill-fated foray into studio filmmaking resulted in Blakeson's follow-up, the derivative YA sci-fi The 5th Wave (2016), so his return to meatier neo-noir territory with I Care A Lot is a welcome affair, and features Pike in another approximation of her Gone Girl (2014) femme fatale persona and an interesting role for Eiza Gonzalez (recently seen as a miscast detective in RZA's Cut Throat City, 2020). But lesbians taking on the mob aren't necessarily new, and Blakeson doesn't quite match the delicious energies exhibited in the Wachowski's 1996 debut Bound, if mostly because the ice-cold Marla doesn't build any believable heat or energy with Fern, who, if push actually came to shove, would likely be expendable in her scheming.
Although a bit long in the tooth for this kind of narrative at nearly two hours, audiences are bound to gravitate towards either the first or second half, the latter taking the film into comedic but illogical cat-and-mouse shenanigans between Dinklage and Pike. But the real power of I Care A Lot is when Blakeson is exploiting our sympathies in its elaborate set-up, with some excellent casting in Dianne Wiest as the latest target of Marla's greed. The frustrating scenario is almost breathlessly exacerbating as Wiest's unassuming Jennifer Pederson is browbeaten and held against her will, in ways which recall Soderbergh's highlighting of medical institutions as potential prisons in Unsane (2018).
When it's revealed that Jennifer does indeed come with strings attached courtesy of her Russian mafia affiliated son, a poker-faced Dinklage, which includes a playful but nasty exchange with sexist lawyer Chris Messina, the audience allegiance begins to chart one of many revolutions in who they may empathize with. Clearly Marla and Fern are terrible people, whether or not working within their fuzzy legal rights (the brief but welcome presence of Alicia Witt as a crooked doctor adds more terrifying complexity to the crisscrossing corruption between systems allowing for people to be absorbed without anyone batting an eye), and the blind collusion of a judge Isaiah Whitlock Jr. adds to the tension (the use of a downtrodden relative played by Macon Blair, on the other hand, leans into the heavy-handed).
But sympathies tend to lie in the court of Dinklage and Wiest until another major shift in the third act. Catharsis or the belief in a just world are ideas and expectations always just dangling out of reach in I Care A Lot, a title which takes on even more ironic undertones considering Blakeson's flagrant disregard for wanting us to really care one iota about any of these people—but that's not to say Marla isn't simply representing the wisdom she extolls at the film's start—"playing fair is a joke invented by rich people to keep everyone else poor." As she repeats, of the two kinds of people in this world, either lions or their prey, she is a lioness. But the gender of the oppressor, intriguingly, only highlights the erasure or diminishing of disenfranchisement when it comes to selfishness and greed in a narrative which only really contends accumulating wealth is merely the necessary powerful hammer needed to crush everyone and everything not worth keeping around for some sort of benefit. Shot by Doug Emmett (The One I Love, 2014; Sorry to Bother You, 2018), who tends to showcase Pike's penchant for supreme, chilly villainy, I Care A Lot is a black comedy about capitalism's favorite progeny – human predators.
Reviewed virtually on September 14th at the 2020 Toronto International Film Festival. Gala Presentations – 118 Mins
★★★/☆☆☆☆☆