Only the Lonely: Chase Explores Childhood Traumas in Effective Horror Film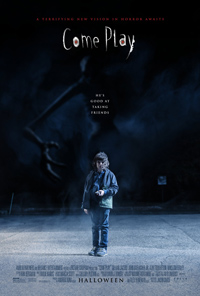 The alienating effects of miscommunication with autistic loved ones is usually the stomping ground of subgenre melodrama, so utilizing the situation as a backdrop for Come Play, the sophomore feature from director Jacob Chase, is indeed a welcome exploration.
Adapted from his own 2017 short film "Larry," it evokes a tradition of Spielbergian elements of the 70s and 80s, wherein troubled families find their resiliency tested through interaction with either extraterrestrial or supernatural elements.
Like a dark fairy tale, the usual tactics eventually prevail, as Chase utilizes the most innate weapon in the familial arsenal, but it's a deservedly effective take cobbling together familiar elements for a contemporary genre film, bolstered by strong performances and impressive special effects.
Oliver (Azhy Robertson) is having a difficult time in elementary school, exacerbated by his autism. Depending upon an app on his cellphone in which he chooses various symbols which the phone then vocalizes, Oliver's method of communication has courted jealousy among peers who can't fathom why they aren't allowed similar use of their devices. Additionally, an incident in the recent past with schoolmate Byron (Winslow Fegley), the son of his mother's (Gillian Jacobs) friend, has created a bullying situation for Oliver. Oh, and mom and dad (John Gallagher, Jr.) are on the verge of separating. And so, in Oliver's alone time, his phone is overtaken by a seemingly innocent story called Misunderstood Monsters. The hero of the story, a gray skeletal creature named Larry, is lonely and needs a friend. The more one reads of Larry's story, the closer he gets, traveling through electricity and inhabiting your electrical devices. And when he's close enough, he can find his way out of these places…and extend his hand to you in a friendship he promises is eternal.

Chase marries the technological fears of J-horror with what Jennifer Kent essentially established in The Babadook (2014), wherein vulnerable family dynamics allow for the visitation of a presence, necessitating a confrontation of their own emotional dissonance to conquer whatever is plaguing them. The introduction of autism as an extra layer of compromised communication between child and parent becomes quite effective and one begins to wonder how Larry might modify himself to creep into a variety of different children's lives who find they need a 'friend' who understands them. While Kent's 2014 debut now feels like a seminal touchstone of trauma genre manifestation, Come Play (which could have used a more efficacious titling for its narrative expansion) presents a 'misunderstood monster' which looks a lot like the Slender Man, and the effective mood owes much to DP Maxime Alexandre, who has lensed a variety of high profile genre titles, notably Alexandre Aja's creature feature Crawl (2019).
With Azhy Robertson (who has a lot more to do here than as the child of divorce in Noah Baumbach's Marriage Story, 2019) coiffed like lil Danny Torrance from The Shining (1980) and granted an impressive amount of interiority through his various interactions with mom, dad and the eventually redeemed frenemy Byron, Chase manages to create something special. Paired with Gillian Jacobs, who for once gets to show off her serious side, the two performers sail Come Play into a poignant climax which is mournful and memorable.
★★★/☆☆☆☆☆