Stamen Alive: Hausner Examines the Pursuit of Happiness in Cerebral Sci-Fi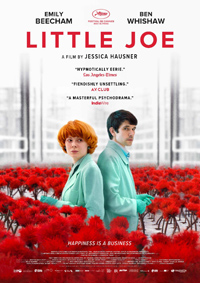 It was "the nightmare that threatened the world" and something that came from "deep space," a plant seed infiltrating the masses and replacing humans with soulless doppelgängers of themselves. It was the classic, generationally modified Invasion of the Body Snatchers, a conceptual metaphor on McCarthyism in 1956 readdressed cinematically in 1978, 1993 and 2007. Austrian auteur Jessica Hausner pivots on this theme with something different in her latest feature Little Joe, a mutation of botany and medicine which posits man-made antidepressants as a conduit for a similarly sinister personality takeover. Hausner's latest also serves as her English language debut, an existentially leaning exercise which delivers subtexts on the dangers of manipulating the natural order of human conditioning. Is being happy all that matters? What do we lose if the consumption of inorganic happiness was a reality?
Alice (Emily Beecham), a single mother, is a senior plant breeder at a London based corporation engaged in developing new hybrid species. She's just perfected a new breed of flower, named Little Joe after her prepubescent son (Kit Connor), a bright red plume designed to make its owners happy. As the plant awaits its final tests before availability to the public, strange things begin happening at the lab. While her co-worker Chris (Ben Whishaw) takes steps to woo her, their plant, created to be sterile, begins releasing a pollen which destroys other specimens in the lab. Co-worker Bella (Kerry Fox) warns them she believes something is wrong with Little Joe, which has odd effects on those who inhale the pollen, including Alice's son, exposed to it from a plant she unwittingly brought home. But just as Alice realizes the extent of her creation's effects, it might be too late.
Hausner does a fine job of keeping us on edge with this sinister exercise content with examining the ease with which men in the workplace undermine their female cohorts, not to mention the fine, irrevocable line between mental stability and imbalance as defined by cultural norms. Tonally, this is similar to her 2004 art-house thriller Hotel, which creates a similar brooding unease. Unfortunately, there's little fluctuation in pacing here, and Little Joe remains at flatline foreboding, which becomes especially evident following its third act climax, presented as an inevitable blip on the narrative radar.
Still, there's enough sinister delight to be gleaned from Little Joe to make this as enjoyable as it is intelligent. Emily Beecham's Alice channels Mia Farrow's seminal Rosemary's Baby performance, with shades of Katharine Ross in The Stepford Wives, a more than capable woman undermined at every turn where she potentially challenges her proscribed roles as a mother or co-worker.
Styled in a way which recalls Maren Ade, the unassuming Beecham is a compelling heroine flanked by some excellent supporting turns. As her dry, somewhat unsupportive therapist, Lindsay Duncan drills down into the underlying argument of what it means to be happy, which is a base selfishness on fulfilling one's own desires, while cultural expectations require the adoption of personas and goals created to satisfy the expectations of others. In the end, we are left seeking a way to tap into the pursuit of a happiness which eludes us when these desires are repressed by self sanctions…or guilt. The more Alice vocalizes the changes she notes around her, the more her son and colleagues question her ability to rationalize, including a dapper but dangerous Ben Whishaw as a soured love interest.
Kerry Fox steals her scenes as a disgraced plant breeder whose past burnout and ensuing suicide attempt have ruined her credibility. She's also the only character who channels authenticity because she has the ability of an emotional range. As the horror of what Little Joe is causing dawns on Alice, she struggles to find a way to stop the onslaught of its spread. But as a superior flippantly remarks at one point in her flaccid attempt to right her error, what's wrong with being happy?
Little Joe unfurls in the mostly sterile spaces of Alice's laboratory, with a handful of expeditions to other realms, such as the countryside where Joe's father lives (one of the few Austrian actors reflecting the film's co-production). And while the film may forego extravagant set pieces and a dramatic climax, Hausner and screenwriter Geraldine Bajard conjure something as equally provoking and sinister in their conception of Little Joe's survival strategy—for what could be more insidious than the obsession inspired here, requiring the duality or acting out of a social role while being devoted solely to the survival of an inanimate object in exchange for a happiness which merely equals an addiction to complacency?
Reviewed on May 17th at the 2019 Cannes Film Festival – Main Competition, 105 Minutes
★★★½/☆☆☆☆☆