Dress to Kill: Strickland Strikes Again in Luscious Homage to 70s Cinema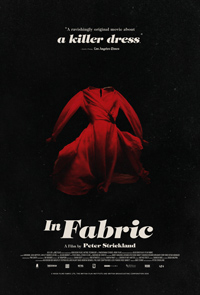 "Dress shabbily and they remember the dress; dress impeccably and they remember the woman," might be a fitting snide and snooty Coco Chanel quote used to gild In Fabric, the fourth cinematic splendor from British director Peter Strickland. Of course, we cannot help but remember the murderous dress at the heart of the film—but there's nothing at all shabby in sight. Recalling a lost era of 1970s auteurs who conjured dread and horror through inspired visual aesthetic and moody, textured soundtracks (think Nicolas Roeg or Dario Argento), his latest offering follows a cursed scarlet dress sold via an enthralling and bizarre winter sales craze, warping the lives of its unlucky owners unfortunate enough to slip it on. As with his previous titles, such as the giallo inspired Berberian Sound Studio (2012) and the erotomania masterpiece The Duke of Burgundy (review), Strickland continues to meld vintage sensibilities with his own idiosyncratic flourishes, walking a fine line between silly and sinister in this latest effort which deserves comparison to the likes of Bill Gunn and David Lynch.
During a winter shopping spree at the celebrated department store Dentley & Soper's, a single mother (Marianne Jean-Baptiste of Secrets & Lies, 1996) spies an exquisite red dress which seems to hug her in all the right places. The creepy but cheerful department store clerk (Fatma Mohamed) gleans some personal information from the woman, who is looking for something to wear on an impending blind date. While the eventual rendezvous is a bust, strange things begin to happen to the woman, beginning with a nasty rash. But the trouble really begins when she tries to return the dress. The next owner (Leo Bill) purchases the dress to wear as a joke to an alcohol infused bachelor party. Soon after, his wife (Hayley Squires of I, Daniel Blake, 2016) becomes enamored with the dress…
In essence, In Fabric plays like the fashionista version of The Monkey's Paw, dispelling the film's potential campiness as its sultry, creeping, vibrantly crimson dress moves through space like some slinky ensemble we might have liked to have metamorphized in Olivier Assayas' Personal Shopper (2016). And yet, Strickland's film is no less cerebral, splitting its narrative into two distinct narrative angles ruled by the connective tissue of the department store matron played by Fatma Mohamed (a presence in all three of Strickland's previous features), who delivers a wickedly witchy supporting turn speaking in heavily accented foreboding riddles made even more entertaining thanks to some apparent translation difficulties. Just as she recalls a range of bald, sinister femme fatales, the Dentley & Soper's staff and ad campaign channel everything from Roeg's The Witches (1990), to Annie Lennox or Sasha Velour with a dose of Jeff Lieberman's classic hallucinogenic genre film Blue Sunshine (1977).
Strickland punctuates the film with several collage montages, juxtaposing phrases from lonely-hearts personals and various ad campaigns for the clothes and accoutrements sold by a department store which seems to have tapped into capitalism's key tenet – brainwashing (though what the store employees get up to after-hours is a bit more outré). An obsession with superficiality, which leads directly to the kind of disappointing interactions experienced by Marianne Jean-Baptiste's character, mimics a similar visual motif from Godard's 1964 classic A Married Woman, wherein people are victims of their own banal, material driven circumstances. Delicious moments with mannequins (a bit The Bitter Tears of Petra Von Kant, 1972) and the creepiest use of a wire hanger since Faye Dunaway made them a punchline in Mommie Dearest (1981) are but a few choice visuals in this delightfully bizarre new entry from Strickland.
Recycling Danish actress Sidse Babett Knudsen, who headlined The Duke of Burgundy, as the doomed model who last wore the dress before it was purchased by Baptiste, drives home the connective tissues apparent in In Fabric, and how capitalism is a mind-numbing reality which drives us further apart only to unite us mysteriously, and intimately, through the objects we logistically end up sharing. As the film's unwitting victims slowly begin to realize something's wrong with the dreaded red dress, someone asks "Do you think anyone buying these things gives a damn about what it all means?" Of course, the answer is no. And of course, therein lies the rub.
Reviewed on September 7th at the 2018 Toronto International Film Festival – Midnight Madness Programme. 118 Mins.
★★★★/☆☆☆☆☆