The Kindness of Strangers | Review
Strife Itself: Scherfig Delivers Major Misfire with Manhattan Set Melodrama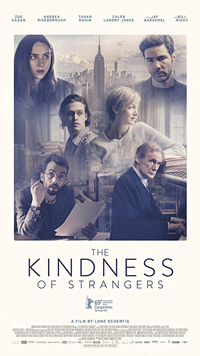 Lest we forget, it was Blanche Dubois, the broken seductress of Tennessee Williams' classic A Streetcar Name Desire, who famously uttered the timeless line "I always depend on the kindness of strangers" as she's being carted off to an insane asylum. The line feels like the unintended albatross whose malingering shadow casts its pallor over Lone Scherfig's maudlin soap opera, The Kindness of Strangers, an international co-production set in New York but lensed in Canada (which also lends an unmistakable inauthenticity to the proceedings). What's most disappointing about Scherfig's film, which she wrote herself (initially titled as Secrets of the Russian Tea Room) is it follows one of the Danish director's (who has been steadily working abroad for some time) best titles, 2016's Their Finest (which was an example of how the use of Bill Nighy can go gangbusters while the opposite effect is on display here). Obnoxiously superficial, particularly in how the narrative reduces the trauma-informed connectedness of its main players to compartmentalized claptrap, Scherfig's latest fails on every conceivable level, with a talented cast floundering haplessly like fish floating closer to their deaths as they rise to the top of the fishbowl.
In swift succession we meet the mainstays of Scherfig's supposed tragicomedy meant as commentary on our contemporary woes of social entropy. Alice (Andrea Riseborough) is a lonelyhearted nurse who tends to an undefined self-help group set in a church basement while also working in a soup kitchen feeding the homeless. There, she meets Jeff (Caleb Landry Jones), an out-of-work misfit cursed with an inability to take instruction. Meanwhile, she councils (Tahar Rahim) an ex-addict who attends meetings with his bumbling lawyer (Jay Baruchel) and has just managed to land a job managing a faux Russian restaurant known as the Winter Palace lorded over by the dapper Bill Nighy, donning an oligarch persona known as Timofey. All of them will come together to help shelter Clara (Zoe Kazan), a mother of two young boys on the run from her abusive husband (Esben Smed), a cop from Buffalo.
Paul Haggis certainly comes to mind while ingesting The Kindness of Strangers, which follows a similar narrative sequence which was unfortunately popularized after the success of 2005's Crash (but was already out of favor by the time he tried it again with 2013's Third Voice), and this material feels like something he would have delivered had he tried his hand at domestic disturbance thrillers like Sleeping with the Enemy (1991) or Enough (2002) starring Jennifer Lopez. But like Dan Fogelman's equally unskilled Life Itself (2018), Scherfig has created a multi-layered miasma of emotional manipulation both aggressively specious and dangerously frivolous.
Ensemble is typically something Scherfig has tended to excel at, and the structure of Kindness is reminiscent of her early Dogme 95 hit, 2000's Italian for Beginners. However, from its opening moments, the film's inarticulate navigation of the despair which defines each of its characters' backgrounds goes from bad to worse, chucking them into a blender until they're mangled into the interconnected scenario of the Russian restaurant run by Nighy (itself a fixture defined solely by its lack of authenticity).
Speaking of donned accents, several of the film's international cast members tend to distract, with Rahim slipping in and out of dialect (particularly in a pouty exchange involving caviar and spoon-throwing) while fellow Danes Esben Smed and David Dencik as a despicable father and son duo fare the worst. Both are incredibly one-dimensional and defined by torture-porn style degradation more appropriate for an exploitation film—early on, Dencik demands his disheveled prostitute/girlfriend "scrub up" on her next visit just as his distressed daughter-in-law begs him to stay for a few days (one of the Kazan character's many alarmingly foolish moves).
To be fair, the cast can't overcome the supreme and severe shortcomings of a script which suggests Scherfig knows little about either the occupations or the realities of these characters. This provides the audience with moments of intentional hilarity, such as Riseborough pulling aside patients to admit she isn't properly licensed to give advice, or Kazan dressed in designer wear scrounging through garbage dumps to feed her sons betwixt stuffing caviar and crackers into her clutch courtesy of the Russian restaurant which could double for a funeral home.
Rules, regulations and reality are the elusive guests at Scherfig's party, whether it be addicts who declare themselves cured or trauma victims who simply need the right kind of love to claim stability. The Kindness of Strangers is a deliriously inept soap opera, and like a character remarks of a 'perfectly good' chair thrown out a window—it's like someone threw it away and now it's part of our lives (and yes, the chair has its own subplot).
Reviewed on February 7th at the 2019 Berlin International Film Festival. Opening Night Film – Main Competition. 112 Mins.
½/☆☆☆☆☆