Sabotage Triage: Kusama and Kidman Break the Bank in Riveting Revenge Thriller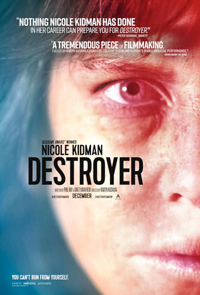 Robert Burns' eternal line "The best laid schemes o' Mice an' Men/Gang aft agley," certainly comes to mind in Destroyer, the fifth feature from director Karyn Kusama, which takes a familiar genre and twists it on its head. Unexpectedly riveting considering the cinematic plethora of bad cops seeking revenge and redemption, Kusama continues her winning streak with screenwriters Phil Hay and Matt Manfredi, who penned Kusama's delicious return to form in 2015's cult thriller The Invitation (review). Operating on a much larger canvas, and with her biggest cast and budget since 2008's Jennifer's Body, Kusama comes out swinging with one of the best Los Angeles neo noirs in recent memory. Featuring a captivating performance from Nicole Kidman, who somehow juggles sinister and sympathetic in equal measure, she's exhilarating to witness here as an unforgettably browbeaten detective gambling it all on a risky road to revenge.
Disheveled and hungover, Detective Erin Bell (Kidman) arrives at a murder scene announcing she already knows who's responsible. Beaten down and bitter, she's handled with kid gloves by her partner, who is often kept out of the loop, and estranged from her colleagues. Arriving at work, she receives an envelope containing a marked one-hundred-dollar bill, announcing the return of a mysterious criminal named Silas (Toby Kebbell). Seventeen years prior, Bell and her partner Chris (Sebastian Stan) were undercover in a sting operation, infiltrating Silas' gang, a band of bank robbers planning a big bust. Somehow, Bell's involvement resulted in her dire state today. As we slowly piece together her troubled past, the detective cuts a sharp swath into the murky underbelly of L.A. as she hunts the man responsible for her unraveling.
Destroyer opens on the enigmatic Kidman as a damaged failure, perhaps irrevocably so. A walking punchline to her peers, the script smartly reshuffles into an intricate parade of backstory allowing us to slowly fill in the missing pieces of information relating to her fall from grace. Rather than dumping a landmine of exposition on the audience, Hay and Manfredi keep this efficient and nimble, focusing instead on sharp characterizations. Southern California provides them with a large playground of possibilities, from a near two-decade old bank heist in Palm Springs to a phenomenally choreographed hold up in South Bay.
If Kidman doesn't exactly conjure the charisma of an action star, she rises to the occasion here, evidenced further in a violent face-off with Bradley Whitford as a crooked lawyer languishing in his Palos Verdes mansion. What's perhaps even more impressive is how Kusama and Kidman transform Detective Bell, lapsing back and forth from seventeen years prior, allowing the actress to display a range from rookie to grizzled authority, knowing exactly what she can get away with and for how long. It goes without saying that many an actress, American or otherwise, of a certain age or otherwise, would forego the vanity requiring the believability of Erin's haggardly existence—and it allows for one of Kidman's most transformative accomplishments. Perhaps Destroyer is arriving in just the right moment to obtain the recognition it deserves.
An ace supporting cast provides Kidman with the required energy she needs to play off, including Sebastian Stan, Scott McNairy, and Beau Knapp, all men who are revolving around her rather than the other way around. While actress Jade Pettyjohn, playing her troublesome teenage daughter, is initially a catalyst for Kidman, a late-staged monologue primes the film for surprising poignancy right until the end credits.
On a technical level, Kusama once again does wonders with her Los Angeles sequences (The Invitation was nestled completely in the Hollywood Hills). In Kidman's pantheon of cinematic close-ups, DP Julie Kirkwood is responsible for capturing her own unique, and enduring interpretations of the actress. An homage to the countless film noirs which have operated in the seedy depths of Los Angeles, Destroyer is an admirably staged genre piece, while Kidman provides the ultimate tonic to the tried and true white male machismo which has defined this cornerstone of cinema, rivaling Eastwood, Bronson, and Willis with a fierceness demanding she be equally lionized alongside them.
Reviewed on September 12th at the 2018 Toronto International Film Festival – Platform Programme. 123 Mins.
★★★★/☆☆☆☆☆