Courtship at Court: Lanthimos Delights with 18th-century Royal Love Triangle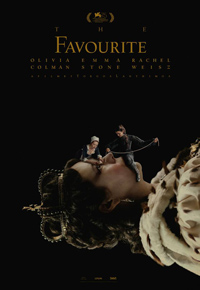 At Her Majesty Queen Anne's palace, its a disheveled state of affairs. There's an ongoing war with France, the score of which is unclear to the regent; the nascent two-party system, Tories and Whigs, is at odds on the direction of the conflict; and, as fresh off-the-carriage Abigail is about to find out, the mud rather stinks. The disagreeable and unpleasant mud also gives the film the first of its eight chapter titles, which – like everything put forth on screen by Yorgos Lanthimos in this surprising departure from his recent output makes for caustic fun.
Based almost entirely on the strangest of love triangles, The Favourite is a delicious ballet chronicling the up-and-downs of the early 18th-century relationship between Queen Anne (Olivia Colman), Lady Marlborough (Rachel Weisz) and Abigail Hill (Emma Stone), plus a handful of supporting players, among which Nicholas Hoult's ambitious opposition leader Harley is the standout – fussy, fragile and buried under heavy makeup.
The three women are archetypes in many ways: the ruler, the schemer, the climber. The fickle Queen is weakened by illness, while her childhood friend and now lover Lady Marlborough has grown to become a tough shadow ruler, keeping things in check with the Prime Minister at home and with her husband the General on the field of battle. The partnership, uneven as it may be, works well in practice. That is until a former lady fallen in disgrace, Abigail, shows up at the palace looking for humble work – or perhaps, as her distant family connection to Lady Marlborough leads her to believe, something more than that.
After getting progressively lost deep into the labyrinth of his own nihilistic perversion, with last year's The Killing of a Sacred Deer (review) the absolute nadir, Lanthimos is having a much-needed breather courtesy of a lighter, more accessible script written by others (TV scribe Tony McNamara from a story by Deborah Davis). It's a smart move, because it allows his considerable talent and knack for visual experimentation to roam free. The palace where most of the action takes place is an absurd theater of excess and pointless hedonism (a triumph of production and costume design as well, with its unconventional and sometimes futuristic dresses), and Lanthimos' humorous use of wide-angle lens, dissolves, and quick pans across halls and chambers goes splendidly with that.
When they are all in the same room, however, Colman, Weisz and Stone light up the screen even without Lanthimos' frenetic tinkering. Three specific shots come to mind for each of them. For Colman, who plays the Queen essentially as a heartbroken child, it's an overhead, upside-down close-up of her desperate screaming, partly due to physical suffering and partly a result of her fateful weakness in allowing the devious Abigail to stroke her ego, thus endangering the relationship with her true love Lady Marlborough.
For Emma Stone's Abigail, it's the half-bored, half-focused hundred-mile stare she conjures while tending to her new husband's needs on their wedding night, which of course holds no value to her other than being an assurance of safety within the court.
And finally, Rachel Weisz's majestic frontal close-up on Lady Marlborough: exiled, proudly scarred ("If I were a man, I'd be quite dashing with a scar like this") and still thinking of the good of the kingdom from afar. She may very well be the standout performer in The Favourite, as the only person who has the guts to tell the Queen she looks like a badger, but also the most clear-eyed about the tragic romanticism fueling this odd triangle.
Reviewed on August 30th at the 2018 Venice Film Festival – In Competition. 120 Mins.
★★★½/☆☆☆☆☆