Tchaikovsky's Wife | 2022 Cannes Film Festival Review
Lady Beard: Serebrennikov Delivers Extravagant Recuperation of a Woman Undone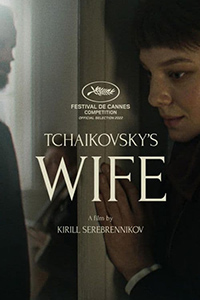 Pyotr Ilyich Tchaikovsky, one of the 19th century's most prolific composers, whose music remains an international staple and influence, was homosexual and married to a woman of a lower class for nearly six weeks before abandoning her. Despite never obtaining a legal divorce, they would never meet again before his death in 1893 and she would spend her final days in asylum before dying in 1917. Her name was Antonina Miliukova, and a reimagining of her perspective and experience is explored in Kirill Serebrennikov's Tchaikovsky's Wife, a title, it is assumed, she refused to relent until the bitter end. Led by a persuasively compelling Alyona Mikhailova as the titular woman, Serebrennikov unveils his most composed offering to date in a film both elegant and sordid, inviting and repulsive.
In Moscow, 1877, Antonina Miliukova (Mikhailova) had the opportunity to be introduced to the famed Tchaikovsky (Odin Lund Biron) at a dinner party. Wrangling an introduction as a means to gain entry into his conservatory, he recommends she get married instead. As time passes, she becomes obsessed with him, mailing him letters describing her love. Upon a rendezvous in her apartment, she throws herself upon him. He hesitates at first, but eventually agrees to marry her, warning Antonina their union would be more like siblings as he didn't desire to be touched and was extremely temperamental.
Based on the company he keeps, it's clear to everyone but Antonina their marriage is a ruse to quell rumors of his homosexuality. After suffering writer's block in conjunction with other health issues, he takes a trip and never returns, leaving his brothers and a friend, Nikolai Rubinstein (Miron Fedorov) to confirm he will never return. More time passes and Antonina waits in vain, refusing to divorce him. But her stubbornness leads to dejection and degradation.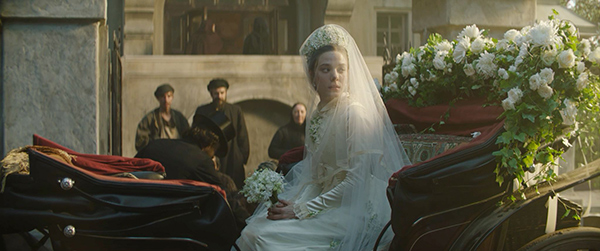 Less than a year after premiering his sprawling, surreal adaptation of Petrov's Flu (read review) the control and craftsmanship behind Tchaikovsky's Wife is even more impressive. While the conjecture applied to the rigid courtship through the two months worth of their marriage in 1877 suggests a heavily researched approach in both period detail and character building, how Serebrennikov imagines the aftermath for Antonina is an impressive staging of a breakdown.
While arguably too naive to understand the reality of her husband's sexuality, perhaps too proud to let go, and likely without any viable alternatives, she's an unfortunate victim of circumstance in the crosshairs of homophobia and misogyny. And refreshingly, it's a full scale acknowledgment of Tchaikovsky's reality, especially from a Russian filmmaker, a native recuperation which could only happen from someone as opposed to his country's regime as Serebrennikov. Miliukova is the arresting focal point, whereas Biron comes across as a spoiled artist and altogether unpleasant human.
But the end result spins into something ravishing and deadly, with Antonina presented as a sort of stalwart Alex Forrest/Fatal Attraction femme fatale, a lady in red haunting her husband like a curse. Her initial flirtation, if one can call it that, is the stuff of nightmares, threatening suicide should he refuse her hand in marriage (her trajectory isn't unlike Patrizia Reggiani in House of Gucci). Eventually it might make sense why he would say yes, hardly expecting her valiant opposition to divorce. Submerged in a state of denial, she becomes unhinged in a bleak state of miserabilism, allowing her lawyer to take the place of bedmate while she gives up children for adoption.
As presented here, Antonina is an extreme martyr, given one moment of physical pleasure in a unique scene where she is offered her choice of naked men like chattel to throw her off the trail of Tchaikovsky. This isn't the first narrative to imagine the sacrifice of women married to men classified as genius (Helen Mirren starred as Tolstoy's wife in the comparably toxic The Last Station, 2009), and Mikhailova has been portrayed before by Glenda Jackson in Ken Russell's The Music Lovers, not to mention a 1970 Russian production about the artist, Tchaikovsky.
While director Igor Minaiev was once planning his own Madame Tchaikovsky, it's hard to imagine something as blunt as Serebrennikov's offering, which attempts to instill a sense of agency for a woman used as beard and condemned to be a footnote in the history of an iconic composer.
Reviewed on May 18th at the 2022 Cannes Film Festival – Main Competition. 143 Mins
★★★½/☆☆☆☆☆