Esterno notte (Exterior Night) | 2022 Cannes Film Festival Review
Dead in Red: Bellocchio Returns to Infamous Kidnapping for Television Debut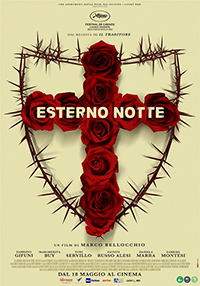 In his continuation in recuperating fantastical elements of Italian political and criminal history, Marco Bellocchio returns to territory he's covered before in Esterno Notte, the auteur's first stint in television as a five-hour plus six episode event dealing with several main players in the wake of the 1978 kidnapping and assassination of Prime Minister Aldo Moro. It's no surprise to find Bellocchio in top form dealing with material he's keenly fascinated by, this time taking significant liberties with this semi-fictionalized account.
Co-written by noted television scribes Stefano Bises (The New Pope) and Davide Serino (who penned the series 1992 and 1993 inspired by Italy's political turmoil in the early part of that decade) plus Ludovica Rampoldi (co-writer on Bellocchio's phenomenal The Traitor – (read review), it's a meaty dive into the underbelly of governmental discord during the Years of Lead. Starring several of Italy's most notable contemporary actors, it's a compelling, methodical stroll through a seminal event in Italian politics.
On March 16, 1978, former Italian Prime Minister and current president of the reigning majority Christian Democracy Party (DC), Aldo Moro (Fabrizio Gifuni), was kidnapped by the far-left terrorist group known as the Red Brigades, who had rocked the region with a series of attacks. Their aim was to halt the Communist rise to power as Moro had attempted to mediate between the DC and Italian Communist Party (PCI), which would have given them their first foothold in government since 1947. During his 55-day stint as hostage, his cabinet members, including Guilio Andreotti (Fabrizio Contri) and Francesco Cossiga (Fausto Russo Alesi), deliberate on how to handle the situation. Pope Paolo VI (Toni Servillo) and Moro's wife Eleonora (Margherita Buy) also struggle with how to move forward, each of them receiving direct communiques from the detained official under supervision of his captors. Meanwhile, members of the Red Brigade, including Valerio Morucci (Gabriel Montesi) and Adriana Faranda (Daniela Marra), among others, struggle with how to move forward during their publicized trial of Moro, seeing as government officials refused to negotiate with them.
Bellocchio already covered this event in his lauded 2003 title Good Morning, Night, which centered the events through the lens of one of the Red Brigade terrorists. In 1986, Giuseppe Ferrara directed Gian Maria Volonte as the assassinated official in The Moro Affair. And let's not forget John Frankenheimer adapted Michael Mewshaw's 1983 novel Year of the Gun in 1990, touching on the event through the eyes of two American journalists (Andrew McCarthy, Sharon Stone) who get tied up with the Red Brigade while trying to investigate.
Clearly a period and incident ripe for multiple interpretations, Bellocchio delves in Day of the Jackal style with this television saga, which could easily be released theatrically (a la Assayas' Carlos in 2010) considering the quality. The series begins with a flight of fancy, with Moro turned over and recuperating in the hospital (though this leaves room for interpretations of conspiracy theories). Dense and often loquacious, Bellocchio navigates a whirlpool of noted figures, with Francesco Cossiga, Giulio Andreotti, and Pope Paolo VI as standouts. Navigating these labyrinthine political moves in the shifting landscape of Moro's 55-day stint as a hostage before he turned up dead in the trunk of a Renault 4, Bellocchio adds spurts of the violent reenactment and the ensuing emotional strain on Moro's family, particularly his wife Elenonara, in a standout performance from Margherita Buy. However, the most energetic and intense segment arrives courtesy of Daniela Marra as Red Brigades member Adriana Faranda, who was opposed to Moro's murder and dissociated from the Red Brigades shortly after. Navigating how she abandoned her child to pursue her convictions, she's simultaneously sympathetic and disagreeable, with Marra's captivating performance reminiscent of Amira Casar.
Throwing in an homage to Peckinpah with a direct reference to The Wild Bunch (1969), which captures the sentiment of a disappearing Italian political landscape represented by Moro's attempt to unify the Christina Democracy party and the Italian Communist Party, Bellocchio expertly captures the period's nasty ebb and flow of violent turmoil. Servillo serves up a fine presentation as Paolo VI, though he's obscured by the dueling entities of Cossiga (an exceptional Fausto Russo Alesi) and Andreotti (Fabrizio Contri), both who also served as Prime Minister. However, Servillo's formidable portrayal of Andreotti in Sorrentino's 2008 film Il Divo may tend to haunt the sobering portrayal by Contri for those familiar with this intersection.
A lively score from Fabio Massimo Capogrosso sets the tone while DP Francesco Di Giacomo (Marcello's Martin Eden, 2019) captures the clandestine behind the scenes wheeling and dealing as primer for the dread and violence bursting onto the streets in ways which elevates this beyond expectations of television. Another reminder of Bellocchio's considerable talents (think of what he could have done with House of Gucci in a similar format), Esterno Notte is a pleasurable, complex snapshot of Italian politics with perversely fictional flourishes.
Reviewed on May 18th at the 2022 Cannes Film Festival – Cannes Premiere. 300 Mins.
★★★½/☆☆☆☆☆