News of the World [Video Review]
Hermes' Hermits: Greengrass Finds Humanity in the Crevices of Revisionist Western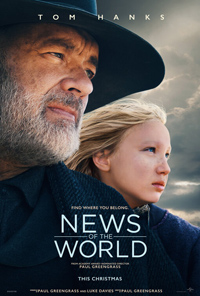 Home is where the hope is, rather than the heart, and there's nary much to be had in the ruffled climes of 1970 Texas, five years after the end of the Civil War, a newly minted nation divided and haunted by the considerable sins it refused to face. Sounds familiar, no? Such is the time and place and general ambience of News of the World, a surprisingly demure offering from Paul Greengrass, a documentarian who grew into a franchise director of action laden output with three Jason Bourne titles and his remounting of heinous terrorist attacks, such as the Oscar nominated 9/11 title United 93 and 2018's grueling portrait of Norway's 2011 tragedy 22 July (2018). Based on the 2016 novel by Paulette Jiles, this is revisionist territory to be sure, but one which is often quietly compelling if altogether blunt in its aims and trajectory.
Civil war veteran Captain Jefferson Kyle Kidd (Hanks) wanders the large expanse of Texas reading published news articles for anyone interested in hearing published stories from both familiar and foreign climes. While his self-assigned messenger duties are sometimes contentious considering the newly re-united States are grappling with stark, unfamiliar realities, his services are often met with excitement and applause. In between destinations, he stumbles upon the hanging body of a lynched Black man, and nearby a wild-eyed child named Johanna (Helena Zengel), who was being transported by the dead man to her nearest relatives, an aunt and uncle she doesn't know. Kidd can piece together she had been reared by Kiowa Indians who had also been responsible for slaughtering her birth parents. As an astute observes points out, she has been twice orphaned. With no one willing to assist, Kidd quickly realizes he's the only option for safe passage to her final destination across the treacherous terrain. Though she doesn't remember her native German language and cannot understand English, they develop an empathetic rapport, and eventually through Johanna, Kidd recognizes his own chance at salvation from a past he hasn't fully confronted.

A little bit of The Searchers (1956) and a little bit Dances with Wolves (1990) aided by a familiar Tom Hanks persona to comfort and quell our anxiety in a hopeless world, Greengrass creates a universally compelling if somewhat familiar tale of empathy and woe. At certain times, it feels as if some corners are cut – the ever-dependable Elizabeth Marvel and her efficiency in communicating with Johanna saves a lot of time in the delivery of necessary exposition we would have most likely have had to fill in for ourselves.
Since it's never quite clear how much Johanna remembers of her traumatic past, a visitation to the remnants of her birth home also seems a bit convenient for a story unfolding quiet magnificently without the crutch such a scenario feels like. But Hanks shares a warm, winning chemistry with Helena Zengel, both who are playing a facet of a characterization they've already both been renowned for. Hanks is the usual fount of extreme patience and humanity in the face of violence, brutality, and degradation, while Zengel excels as his muted counterpart. If you've seen her frustrating but well played performance in 2019's System Crasher from Nora Fingscheidt, one sees Zengel has a penchant for feral fury.
If there's any major complaint from Luke Davies' script it's how it sometimes rushes through the juxtaposition of what Jefferson and Johanna bring to one another, the wisdom from each of their perspectives and how it can be applied to their own trauma. News of the World gets its points across but sometimes at the expense of the poetics built into the narrative.
Although an overly languid film, Greengrass descends into action and madness, the former in a well-staged shoot out involving the sinister Michael Angelo Covino (The Climb) and another in a hellscape razing of Erath County, where the white Texans have expelled and killed the indigenous population and taken over their area through zealotry and their own brand of fake news, collapsing both the horrors of Nazi era Germany and the rise of American xenophobic sentiments today.
Besides Marvel, Greengrass employs several familiar faces, including Ray McKinnon and Mare Winningham. A fitting score from James Newton Howard and some excellent landscape rendering from Dariusz Wolski conjure the somnolent tone and period of a world wherein the dissemination of the news was as fractured and piecemeal as it is today, if for entirely opposite reasons.
★★★½/☆☆☆☆☆