Les Enfants des Autres (Other People's Children) | 2022 Venice Film Festival Review
Sex and Longing: Efira Shines in Zlotowski's Portrait of Missed Opportunities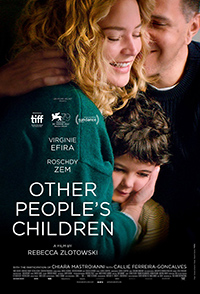 In a celebrated tradition of quietly personal characterizations French cinema is known for, Rebecca Zlotowski examines one woman's sudden quest for motherhood she hadn't been aware she desired until it's almost too late in Other People's Children (Les Enfants des Autres). Heretofore, Złotowski's characterizations have skewed towards transitional periods in the life of young women, such as her 2010 debut Dear Prudence or 2016's An Easy Girl.
Recruiting Virginie Efira to headline one woman's surprising quest to engage in the collective experience of birthing a child after falling head over heels for a handsome divorcee and his four year old daughter, Zlotowski adeptly navigates the inevitability of reality obfuscated by love's rosy tinted glasses. Although the narrative structure isn't inherently unique, demanding patience as it attempts to solidify character groundwork, a third act shake up solidifies the heart of the film's themes, buoyed by Efira's charisma and vulnerability.
Zlotowski sometimes gravitates towards more sensational, enigmatic periods and locales, such as 2013's nuclear plant love story Grand Central (read review), or the psychic sister act of her woefully underrated 2016 title Planetarium (read review), but her latest is in keeping with an unfussy depiction of a woman undergoing an emotional transformation allowing her a new perspective on her life and the choices she's made. As the score immediately tells us, along with George Lechaptois' visual segues, Rachel (Efira) is a woman in a swoon, to the extent even an amorous co-worker can immediately sense it. A French teacher who cares deeply for her students, the vibrant forty-year-old is ready for romance. A brief but warm introduction to her ex from eight years prior bleeds directly into Rachel attending a guitar lesson with the captivating Ali (Roschdy Zem), and we understand where all the butterfly flutters are coming from. But is he too good to be true? Embracing the fact he has a young daughter, Leila, it's not long before Rachel asks to meet, an introduction which is successful. However, Rachel soon learns her role in Leila's life will also be as an 'extra' – she'll never be just 'mom.'
Taking Leila's childhood sincerity to heart, including the girl's unreserved comments about why Rachel is suddenly around all the time, the bond between the two of them grows, but also begins to diminish the uncomplicated honeymoon period with Ali. An introduction to his ex-wife Alice (Chiara Mastroianni) finds the two women observing each other from a distance. An exam with her gynecologist (played by documentation Frederick Wiseman as a man named Dr. Wiseman) confirms she doesn't have much longer to become pregnant. An immediate wish fulfillment transpires but is over before it can rightly begin, the first major misstep in compromising her newfound connection.
Ali isn't the only party interested in Rachel, as she mentors a troubled student, Dylan (Victor Lefebvre), who obviously has a crush on her. And she lightly entertains the obvious flirtations of younger colleague, Vincent (Henri-Noël Tabary). Rachel is oblivious to them, consumed by a miscarriage and her younger sister's 'happy accident' pregnancy. And just when it seems like a rhythm has been established, Ali and Alice make a surprise announcement.
The interiority established for Rachel is richly detailed, from her childhood trauma regarding her mother's death, her loving relationship to her father and sister, and her passion at work. Sometimes, all of these scenarios tend to bog down the pacing, such as the inclusion of Dylan's puppy eyes at school during an exam, or an all night excursion with Vincent which feels like it has to be included to share pertinent information about her past relationship.
Red flags begin to appear when Rachel finds herself left out of a major family event, and like everything else, she doesn't read the writing on the wall until it's too late. As watchable as Efira is, sometimes Other People's Children outwears its welcome, despite a variety of scenarios and subplots. At a certain point, Rachel bemoans the fact she's become banal, experiencing a desire for motherhood which could also be a semblance of the fear of missing out. And her plight also lends a sense of banality to the proceedings. But if the narrative tends to feel like it's coasting on the laurels of Efira's performance, Zlotowski sails into an eloquent landing with an epilogue reinforcing a different meaning to rearing 'other people's children,' and the potential impact we can have on the others exactly because we aren't their parents but provide a support we might never see the everlasting effects of.
Reviewed on September 4th at the 2022 Venice Film Festival – In Competition. 104 Mins
★★★/☆☆☆☆☆