Sentimental Divide: Wright Weds Wilderness in Compassionate Debut on Grief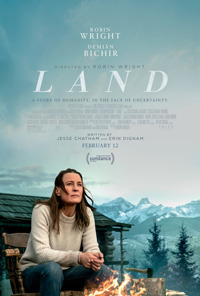 "Things do not change; we change," is one of many eloquent statements from Thoreau's eternal Walden: or, Life in the Woods (1854). It's a particular phrase from a text frequently recalled in Land, the directorial debut of Robin Wright, who with her scribes Jesse Chatham and Eric Dignam, has crafted a stellar character portrait for herself in this subtle but mood driven study on grief and reconnecting to humanity through the salve of the environment. In essence, Wright plays a woman who retreats into the wilderness, perhaps to die but most assuredly to be alone as she resigns herself "to the influence of the earth," so to speak. A dignified performance and the gentlest of romantic connections hearken back to a forgotten period of American cinema and Wright expertly navigates the rugged territory often assigned to the masculine realm for a debut which, unlike her other directorial efforts of herself in several "House of Cards" episodes, provides us with another side of the enigmatic performer's prowess.

After a life altering tragedy, Edee Mathis (Wright) abandons life as she knows it and purchases a ramshackle cabin in the Rocky Mountains. Ensuring she divorces herself from all vestiges of human interaction, her first winter nearly fulfills a pseudo death wish when she's rescued by a local hunter (Demian Bichir) and a helpful nurse, Alawa Crow (Sarah Dawn Pledge). Declining to be treated in a medical facility for severe hypothermia, she's nursed back to health by the hunter, who teaches her survival skills, their tenuous understanding of one another morphing into a necessary friendship for Edee, who regains a zest for life, despite herself, all alone in the wilderness.
Wright's Edee Mathis is, in essence, a sister spirit to something like Robert Redford's eponymous Jeremiah Johnson (1972), a self-willed hermit, who, for their own personal reasons, wishes to remove themselves from civilization. It's evident early on Edee survived some sort of trauma which involved the deaths of who we assume to be her husband and child. Used sparingly is Kim Dickens as her empathetic sister, and it only takes one highly emotional sequence between them to understand Edee is a woman whose only potential hope is to get away, recoup and reconsider her next moves, should she want to make them. Believable in her frustratingly naive efforts to rough it in the wilderness without any real experience, she's brought to the brink of death perhaps to be reminded of the possibility of kindness and sincerity in humankind.
Favoring cover tracks of notable songs to bookend the film (a version of Springsteen's "I'm on Fire" by The Staves provides the sad but seductive mood), Wright has crafted an astute character study with Edee, while her co-star Demian Bichir, though less well characterized, shares an energetic warmth even through what could have been impossibly twee moments, like a repeated sing-along bonding with Tears for Fears' "Everybody Wants to Rule the World."
Although the timeline of Edee's stint on the mountain suggests her hair would look a bit different than it does, it's nitpicking when taking into consideration the success of her performance. After Land moves past the general cliches of 'city-folk-in-the-woods' terrain (where urban characters always, always seem to be easily besieged by some life-threatening mammal, here a bear who goes on a rampage in Edee's living space, reminiscent of a mountain lion sequence in 1981's Continental Divide with John Belushi and Blair Brown), it settles into an unexpectedly moving portrait of a woman whose world was abruptly shattered, necessitating a new identity and a new way of seeing the world to find a reason for continuing to live in it.
Reviewed on January 31st at the 2021 (virtual) Sundance Film Festival – Premieres Program. 89 Mins.
★★★½/☆☆☆☆☆