Don Juan | 2022 Cannes Film Festival Review
A Woman is a Woman: Bozon Invokes the Eternal Seducer in Eccentric Musical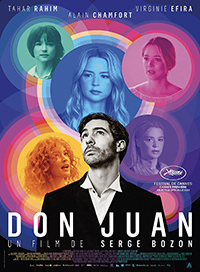 Much like Casanova, the name Don Juan has become a euphemism for a male seducer, a magnetic lothario or gigolo celebrated by his peers and cursed by the debris of broken hearted (historically) females. Serge Bozon lends his odd perspective on the musical genre once again (a style which generated his 2007 breakthrough La France) to modernize and re-orient the mythical narrative of Don Juan, written by his regular scribe Axelle Ropert.
With a handsome cast and a meta infused approach, it's perhaps the closest jab at tragicomedy since Lord Byron's epic poem which suggested Don Juan was at the whim of his admirers rather than the womanizer abusing their vulnerabilities. However, this playful approach to gender identities and the all-consuming social dilemma generated by public emasculation feels as if it's been done before and to greater effect. Despite the commitment of a playful cast, featuring actors who aren't necessarily known for their singing abilities, it's a musical about emotions which never really conveys any, and thus feels a bit flat and monotonous.
Laurent (Tahar Rahim) is about to marry Julie (Virginie Efira) but she gets cold feet, leaving him at the altar. Devastated, Laurent nurses his sorrows through morose sing-song, seeing Julie's visage in every woman he meets, often leading to comic misunderstanding. He's also starring as the titular Don Juan in a local mounting of the play, highly aware of his own shortcomings with women as compared to the infamous character. Due to casting changes, the female lead is replaced by none other than Julie herself, allowing the couple to tentatively work through some of the issues which resulted in their dissolution. Eventually, it appears everyone has more in common than they think when it comes to the mercurial potential of love.
Strangely, Efira recently appeared in another recent film about a woman with dueling identities, the far superior and more compelling Madeleine Collins (2021). In comparison, her cascade of numerous women, as transposed and imagined by lovelorn Laurent, feels a bit superficial. When the actual Julie does pop up, conveniently as Laurent's co-star in a production of a staged version of Don Juan, we've become so overexposed to the persona of Julie as a figment we never quite get a sense of her character. Plus, her reasons for leaving Laurent at the altar ring false, and Don Juan feels more earnest than the frivolous love games being played here. Laurent's obsession, perhaps due to his being left (something we're told never happened to the actual Don Juan), adds a troubling dimension to how he suddenly sees the world in her absence. Like Alex Garland's recent metaphorical exercise, Men, the gender reversal technique Bozon is using suggests a more insidious way men automatically collapse all women into the vestige of betrayal based on their own petty dismays.
What's most interesting about Don Juan is Bozon's approach to the musical as narrative as well as literary contemporization (like he did with an original update on Robert Louis Stevenson in 2017 with Mrs. Hyde). Although none of Tahar Rahim's abrupt talk-singing lends itself to feeling memorable, there's a charm to how these moments can convey the explosive passions and emotions which feel hyperbolic in dialogue. "Serve me a song," the distressed Julie begs in a bar as she's fleeing her wedding, for the transportive element of music is both signifier and escape. A third character played by Alain Chamfort, the father of a dead young woman who had been left previously by Laurent, tends to halt the slow burn energy whenever he pops up on screen.
And while Bozon and Ropert, as usual, defy expectations, Don Juan feels largely ineffectual, especially considering the politically subversive delights of their past two projects, Tip Top (2013) and Mrs. Hyde (2017).
Reviewed on May 22nd at the 2022 Cannes Film Festival – Cannes Premiere. 100 Mins
★★½/☆☆☆☆☆