Nos Cérémonies (Summer Scars) | 2022 Cannes Film Festival Review
Summertime Sadness: Reith Explores Brotherly Love with Ominous Magical Realism
It's a formulation as old as storytelling, two men whose love for one another is filtered through and tempered by their attraction to the same woman. But director Simon Rieth attempts something a bit different in his debut, Summer Scars (Nos Cérémonies), a coming of age tale about two brothers which descends into traumatic and subtly spooky territory. Evoking magical realism tendencies, Rieth explores two distinct time periods between brothers who develop a mysterious bond following a tragic accident which makes everything following it inexplicable.
Working more as a metaphor on the powerful nature of attachments, both familial and romantic, this is a narrative about obsession and fixation filtered through the sun dappled earnestness of youth. Like a dark fairy tale from a private memoir, it's a perverse and demure debut provoking consideration for the essence of what allows genre twists to flourish.
As young children, brothers Noe and Tony like to rough house outdoors, left to themselves in Royan, France. They argue over their mutual attraction to a girl they both like named Cassandre, with Tony's slightly older age giving him dibs, it would seem. But their reckless game playing ends tragically one day, and when their parents divorce, they go off to live with their mother. A decade passes, and the brothers, now young men (Raymond and Simon Baur) return to their childhood home, where their father has recently passed. They also reconnect with Cassandre (Maira Villena), but the brothers harbor a dark secret, the nature of which is exacerbated through their reawakened competition for her attention.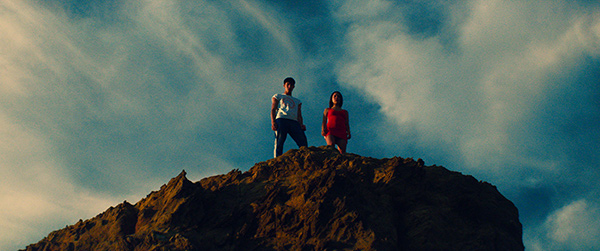 Rieth reveals his shocking development in Summer Scars within the first few moments of the film, the kind of visualization usually intended as a third act reveal in countless horror films about family members losing loved ones (especially in twin cinema, such as Thomas Tryon's The Other or the recent The Twin). And then he switches into the endless summer bliss where Noe and Tony reunite with Cassandre (like the cursed Greek prophet?), vying for her attention in ways similar to the blithe bits in Jules and Jim (1962) or Butch Cassidy and the Sundance Kid (1969), etc. Except Rieth has already plopped a kind of Graham Greene/The End of the Affair element into the proceeding, which casts a considerably dark pallor over the repeated Groundhog Day (1993) style sequences involving the desperate ritual employed by Tony and Noe.
A fitful electronic score assists in destabilizing the dire mood, however, Summer Scars does eventually slip into monotony (or is it apathy?) considering ambiguity has been diminished, at least in the kind of familiar formula one might expect. Real life brothers Simon and Raymond Baur have an immediate onscreen chemistry as the young adult versions of the brothers, but neither of them is really allowed a range of characteristics to differentiate them beyond Tony's alopecia. The original French title translates as Our Ceremonies, and while less poetic, better describes the intent of the narrative, a sort of fantastical ritual to never let go of the memories of those we've loved and lost.
Reviewed on May 22nd at the 2022 Cannes Film Festival – Critics' Week. 101 Mins
★★★/☆☆☆☆☆