The F in Funk: Brown's Biopic Lodged in a White Man's World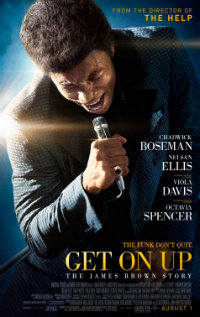 For all the preliminary grumbling about white actors portraying Egyptians in a certain upcoming Ridley Scott Bible farce, there's been a disappointing lack of apprehensiveness as concerns the behind-the-scenes whitewashing of black character narratives in prolific, mainstream films. It's a platform where many features are still filtered through and for a particular palette, calibrated to make unseemly material comfortable to please all tastes. At the modern forefront of these recuperations is Tate Taylor's widely acclaimed 2011 film, The Help, a highly sanitized account of 1960's black women adapted by a white, male director. Taylor is back with a highly anticipated follow-up, a biopic of James Brown, the Godfather of Soul. Inarguably one of the most prolific and important musical artists of all time, Taylor's studio financed production, penned by Jez and John-Henry Butterworth (writers of Liman's Fair Game and Edge of Tomorrow) is a PG-13 rated recount of the singer's rise to iconicity. If it weren't for the magnetic, utterly watchable central performance from a prolific Chadwick Boseman, Get On Up would be a miserly, unapologetically sterilized biopic.
Starting off in 1988, when an elderly James Brown (Chadwick Boseman) unwisely brandishes a shotgun at a group of people he believes wronged him, we flit between periods of the singer's life, ranging from his troubled childhood in 1939 to latter year performances in 1993. Along the way, we meet his mother (Viola Davis), father (Lennie James), aunt (Octavia Spencer), manager (Dan Aykroyd), wife DeeDee (Jill Scott), and best friend, Bobby Byrd (Nelsan Ellis) as he tours Vietnam during the war and calms an angry mob at a concert in Boston a day after the assassination of Martin Luther King, Jr.
Taylor's assembled several of his cast from The Help to flesh out Brown's existence, including the incomparable likes of Viola Davis and Octavia Spencer. Davis nabs one great scene shared late in the film with Boseman, and Spencer does what she does best, breathing vibrancy into roles otherwise snatched to the background. Allison Janney also returns, this time skulking around in a cameo as another period piece racist who can't stand sharing a hotel with black people but, like many of her kindred spirits, has no problem consuming their music for pleasure. It's an awkward and unnecessary bit, especially considering it is Janney in what's only a weak reminder that bigotry raged on all around.
Other key supporting players seem toned down but enjoyable, from a familiarly groomed Dan Aykroyd to Jill Scott, looking amazing in her vintage wear (and there's a smidge of a role for underrated Aunjanue Ellis). As Brown's friend and confidante Bobby Byrd, Nelsan Ellis (also of The Help, and MLK from The Butler) never quite gets a chance to shine.
Taylor and his screenwriters try to make this a frenetic hodgepodge of Brown's illustrious career by flitting back and forth across periods, most likely to avoid the tired formula many a biopic falls into. Yet they're never really concerned with showing us Brown's infamous dark side (one line gets devoted to his tax troubles, for instance). Sure, he's shown to beat his wife (the blows taking place discreetly off screen) but it's a misogyny that can only be vaguely hinted at in the traps set by the reigned in rating. Likewise, the razzle dazzled veneer never purports to show us what really makes Brown tick.
Instead of presuming where he received inspiration for certain famous tracks, we simply drift into them as an escape from a terrible memory. This is a unique and compelling flourish, but, used repetitively and conveniently, seems more an escape from dealing with those elements that polite audiences don't want to see. A bit of conjecture and perhaps some inspiration from Native Son are the vagaries that fill in the nightmares of a hellacious childhood. James Brown's professional achievements are a wonder to be celebrated, but we're left without a complete composite. It was safe to demonize Ike Turner back with What's Love Got To Do With It? (1993), but Get On Up conveniently forgives Brown's similar misdeeds for us so we don't have to waste time wrestling with it.
As far as musically inclined biopics go, Get On Up is certainly a livelier and more enjoyable film than say, Jersey Boys, but it's mostly due to Bosewick's astute performance as Brown, who convinces in every frame, though the rest of the film can't compete with him. This is even more impressive considering this is his follow-up to his performance as Jackie Robinson in last year's 42. He's blighted by the bookending 1988 sequences, plastered in old age makeup that rivals the monstrous job done to Idris Elba as Mandela. It seems a cheap (and safe) bit of comedic relief, making light of the sometimes out of touch and volatile personality, clad in a green jump suit and sporting a freshly roller set fan of hair as he fires off a shotgun to terrify a church group for using his bathroom without permission.
The caliber of Boseman's performance, however, is most evident in the film's weakest moments, such as the underwhelming fallout between Bird and Brown over the former's wish to begin a solo musical career, an important event that only showcases Ellis faltering under the cliché of the screenplay. And for all its whizzing back and forth in time, we're left with the sense that we've really only been witness to a flashy distraction, a film that wants us to ignore that man behind the curtain and relish, safely and securely, our cherished memories of one of the greatest (and most sampled) singers of all time.
★★½/☆☆☆☆☆