Hotel by the River | Review
Heartbreak Hotel: Estrangement and Reunion Synchronize in Latest Sangsoo Slice of Life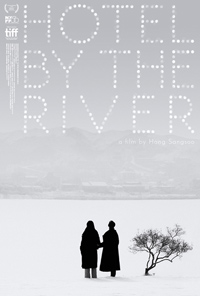 It's a short-lived distinction to be called the latest anything from South Korean auteur Hong Sangsoo, who often has several projects premiering in any given year. 2018 is no different as the he unveils Hotel by the River, his second title of the year following the Berlin premiered medium-length feature Grass. Like 2017's Cannes competing The Day After (one of three releases that year), Sangsoo continues a fascination with stark black and white cinematography, which only seems to enhance the rather melancholy pallor his revolving stock types are usually suffering from. Jilted lovers socially disgraced, emotionally confounded film directors, and acerbically judgmental acquaintances are a part of this familiar tapestry once more, confined to the titular locale of a hotel languishing off-season as a quintet of family members or friends marinate in caffeine and soju.
As in Grass, which features a forlorn Kim Minhee observing but not interacting with customers frequenting a café, location is the connective tissue of two juxtaposing narratives, which overlap and then separate once more. The centerpiece of the film, the premonitory poet Younghwan, is played by a new addition to Sangsoo's oeuvre, Ki Joobong, who blends seamlessly into this customary self-centered melancholia reflecting the detrimental passage of time and the complicated human relationships affected by it. Convinced he's going to die, but without any evidence to suggest why, Younghwan asks his two grown sons to join him at the eponymous hotel to reconnect (the Korean title is Gangbyun Hotel). However, the reunion only opens the door to past resentments thanks to how he left their mother, and the simmering resentment between brothers, including the younger, successful filmmaker Byungsoo (Yu Junsang, a favorite of Sangsoo's) and the jealous Kyungsoo (Kwon Haehyo, the lead from The Day After).
The elderly poet flirts with the other two major characters, the somber Sanghee (Kim Minhee), who is recuperating from a painful breakup with a married man which has resulted in physical manifestations as she rooms with her best friend Yeonju (Song Seonmi). Playfulness ensues with the recognizability factor which always colors Sangsoo's films, the two women revering the poet but reducing his more notable and acclaimed son as someone a bit frivolous, sniffing, "he's not an auteur." While Kim Minhee takes a backseat to the troubled masculine trio, her sequences with Seonmi's Yeonju are sometimes touched with a palpable intimacy. While not altogether sexual, there's a dynamic between these two female characters that's rare in a Hong Sangsoo film, a touching camaraderie between women absent any sort of ironic critique or one-sided self-awareness.
Like a majority of Sangsoo's output, Hotel by the River finds the director addressing potential insecurities both universal and personal through the familiar dilemmas of his characters, including his own muted reception in his native South Korea (at least compared to his international acclaim). Celebrated abroad for his repetitive yet sweetly authentic portraits of people struggling to reconcile their dreams with their realities, Hotel by the River exists as one of his simplest yet most irresolute offerings. While some of the film's weirder elements might get lost in the shuffle of Sangsoo's business as usual, the closing moments end on something a bit more sublime than expected. And while all of his output is bound to be compared to his growing list of greatest hits (In Another Country; Right Then, Wrong Now, for instance) and naysayers continue to find it difficult to distinguish between certain titles, Hotel by the River may end up being strewn amongst his extensive B-side items but it ends up being one of the director's more serene, introspective efforts to date.
Reviewed on September 6th at the 2018 Toronto International Film Festival – Masters Programme. 96 Mins.
★★★/☆☆☆☆☆