The Dead Don't Die | Review
Fear the Mocking Dead: Jarmusch's Zombie Sketch is DOA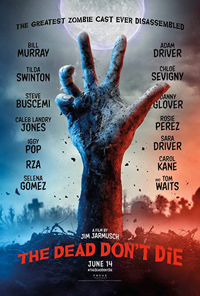 "The world is perfect. Appreciate the details," says deliveryman RZA (in one of the film's many throwaway textual gags) to collectible/convenience store owner Caleb Landry Jones during the extended set-up of Jim Jarmusch's take on the zombie subgenre in The Dead Don't Die. The trouble is, there are plenty details to keep track of, but none of them seem to coalesce into any kind of discernable takeaway than Jarmusch exacting a signature self-reflexive aesthetic of estrangement which features a number of his past regular collaborators donning kooky caricatures.
Like a bored, superficial cousin to Twin Peaks, this community of oddballs exists within its own idiosyncratic microcosm, with Jarmusch touching ever so slightly on troubling social mores alive and well in small town American climes. The end result keeps one guessing on the director's aim with this zom-com, which drills down into awkward passages and exchanges indicating its purposeful intention—if only the film managed to retain Jarmusch's usual irreverence. Unfortunately, its charm dies out well before the final, increasingly self-aware narrative reaches climax, where the undead do as they do in a slow onslaught to endlessly consume.
In small town Centerville, cops Cliff Robertson (Bill Murray), Ronnie Peterson (Adam Driver) and Minerva "Mindy" Morrison (Chloe Sevigny) are forced to contend with a zombie outbreak due to the Earth spinning off its axis and awakening the dead. Only local mortician Zelda Winston (Tilda Swinton), a recent arrival to the town, seems able to defend herself. Before long, the bespectacled police force realizes little can be done to stave off the onslaught of the ravenous undead.
There's much to appreciate in The Dead Don't Die, set in Centerville, U.S.A., announced as "A Nice Place to Live." Obviously, Centerville is a stand-in for the American Midwest (aka Middle America), which may explain several Lord of the Rings references oddly lobbed at Jones' character. Tangential outsiders tend to weigh down the running time unnecessarily, even though they exemplify problems with and hopes for current/future generations (a trio of Cleveland 'hipsters' led by Selena Gomez) and another trio of adolescent juvenile delinquents in a Centerville detention center (where gender norms reign supreme, defied by a young boy who wants to hang out with the girls he's befriended).
A cascade of Jarmusch regulars are allowed free reign, both on the successful end with Tilda Swinton's Scottish samurai mortician, Chloe Sevigny's empathetic cop, Minerva and Tom Waits as a woodland vagabond (sometimes unnecessarily) narrating the proceedings from afar. Bill Murray's usual deadpan line deliveries are less withering than bumbling, and his chemistry with Adam Driver as his affable partner amounts to stumbling interplay, with Jarmusch playing one straight man off another, which may perhaps be what the film intended (i.e., a lot of dead spaces in their exchanges). Nods to a variety of cinematic and literary texts abounds, from Romero to Psycho to The Great Gatsby. Driver's repeated battle mantra "Kill the head," which sounds an awful lot like the demands of the floating entity's demands in Zardoz, also fits with the simmering background political metaphor. And yet, the self-aware theme song sung by an oft-referenced Sturgill Simpson (a Grammy winning country star compared to Waylon Jennings) constantly croons the opposite.
Rosie Perez walks off with a few chuckles as newscaster Posie Juarez, and Steve Buscemi as a racist farmer (who dons a modified MAGA hat "Keep America White Again"). As the woken undead, Iggy Pop remains a hard act to follow as a mangled coffee connoisseur. Nodding towards the current Trump Administration's denial (or complete misunderstanding of) climate change, The Dead Don't Die actually swings into eco-horror territory, as it's polar fracking of the North and South Poles which spins Earth off its axis and wakes the dead. Except Jarmusch doesn't seem to be saying anything new or interesting—zombies as products of consumer culture was parlayed by George A. Romero four decades ago (and features heavily in Waits' monologues). Instead, The Dead Don't Die devolves into a self-aware hodge-podge of obvious references or in-jokes (the Simpson bit or a nod to Samuel Fuller).
There's certainly amusement to be had in The Dead Don't Die—but compared to something like his vampire film Only Lovers Left Alive (2013), or a host of other ensemble titles from his early days through the 1980s and 1990s, Jarmusch presents a zombie exercise defined by troubling asides and filled with frivolous antics for a result which is less than the sum of its undead parts.
Reviewed on May 14th at the 2019 Cannes Film Festival – Main Competition, 103 Minutes
★★½/☆☆☆☆☆