Operation Mincemeat | Review
Get Them to the Greek: Madden Traipses Lightly Through Factual WWII Espionage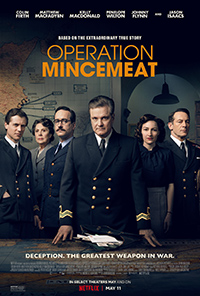 Despite it's presentation as a frothy pseudo-comedy, the events transpiring in John Madden's Operation Mincemeat actually happened, albeit under more strenuous circumstances than the cheery disposition the film leans into. Based on the book by Ben Macintyre, which was already the basis for a 2010 television documentary, the comedically inclined Michelle Ashford (Masters of Sex) spins this into the kind of lighthearted territory of 1940s studio efforts grappling with post WWII realities.
Somewhere between Lubitsch's original To Be or Not to Be (1942) and maybe Alexander Mackendrick's original Whisky Galore! (1949), the importance of this specific secret operation concocted by British intelligence in 1943 is retrofitted for comic rather than historical purposes. A notable cast assists in sashaying through the details of the past for a serviceable ensemble effort from genre jumper Madden, who tends to work best with material allowing for a lighter approach.
On July 10, 1943, British intelligence successfully carried out Operation Mincemeat, a deception which fooled the Nazis into believing British troops were going to invade Greece instead of their actual target, Sicily. Ewan Montagu (Colin Firth) and Charles Cholmondeley (Matthew Macfayden) were the masterminds behind feeding this information to the Nazis via bogus correspondence attached to the corpse of a fake soldier. Through the support of Admiral John Godfrey (Jason Isaacs) and his Lt. Commander Ian Fleming (Johnny Flynn), British Prime Minister Winston Churchill (Simon Russell Beale) signs off on the plan. The only trouble is finding a matching, unclaimed corpse they can coordinate the use of in conjunction with submarine schedules and deferred decomposition. With the aid of Jean (Kelly Macdonald), a secretary who offers her own likeness as the girlfriend of the fictional soldier tossed into the waters off the coast of Spain, it seems their precarious plan just might work.
The espionage references Ashford sprinkles throughout suggests the kind of material Operation Mincemeat could be recalibrated as. The 39 Steps (1935), famously adapted by Hitchcock, is a direct reference, as is a passing conversation referring to Joseph Cotten in another Hitch classic, Shadow of a Doubt (1943). But here, the essence of the 1940s is more a production design suggestion than the actual mood of the proceedings.
The sweetly sincere Kelly Macdonald is, as usual, a standout no matter the energy of the material, and it's no surprise the two male leads are formulated (also per usual) as vying for her attention. Firth's Ewen Montagu, nobly committed to a loveless marriage, usurps colleague Charles Cholmondeley, while Matthew Macfadyen does what he can as a man personified as supremely rigid and stupendously dull. Jason Isaacs shows up every now and then as the snippy Admiral whilst head of the secretarial pool is personified with breezy aplomb by Penelope Wilton, from Madden's The Best Exotic Marigold Hotel films (2011, 2015). Tacked on rather egregiously is Johnny Flynn, playing James Bond scribe Ian Fleming, inspired to write his signature spy icon from his work with British intelligence. Flynn has the sad job of partially narrating Operation Mincemeat, which only adds to the film's sense of oddly measured pragmatism regarding a feat which was a lot more far fetched than the players make it seem.
We've seen many a WWII narrative regarding the infiltration of Nazi intelligence, and Operation Mincemeat has a similar vibe to Stefan Ruzowitsky's All the Queen's Men (2001), in which an American played by Matt LeBlanc joins British intelligence members led by Eddie Izzard to penetrate an all-female Enigma factory in Berlin while dressed in drag (throw in Udo Kier and there's all the ingredients for a forgotten camp classic). War-time romance, the Lindy Hop, a pulp fiction explosion and corpse robbing aside, Operation Mincemeat unfortunately feels a bit tame considering all the elements of cast and crew together.
★★½/☆☆☆☆☆