Wild Nights With Emily | Review
The Exorcism of Emily D: Olnek Goes 'Rowing in Eden' with Affectionate Glance at Emily Dickinson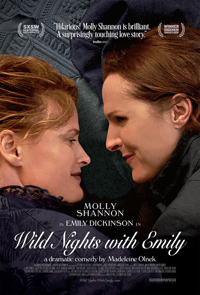 Her carriage apparently held more than just the morbid twosome of Death and Immortality, and Madeleine Olnek's Wild Nights with Emily, thus named for one of iconic poet Emily Dickinson's most impassioned pieces, aims to recuperate the secretive affairs of the infamously reclusive author. Olnek's third feature pivots from the zany and deliciously bizarre queer universes of Codependent Lesbian Space Alien Seeks Same (2011) and 2013's delirious The Foxy Merkins (which plays like kissing cousins with John Waters) into a different kind of cherished universe—a period biopic. However, this is anything but a stuffy exercise in form, and lead Molly Shannon proves to be inspired casting as Dickinson, its trajectory focusing almost entirely on the poet's erased romance with her sister-in-law.
Like many queer cultural contributors in and out of the literary canon, Dickinson's sexual orientation was dutifully eclipsed by the heteropatriarchy, her posthumous image re-framed as an eccentric spinster who jotted down musings which would eventually form a whole corner of American literature. With Olnek's delightful eccentricity completely intact, this is a subversively bittersweet rehabilitation of a brilliant woman ahead of her time.
Neither a history lesson nor a restoration, per se, of Dickinson's (Shannon) potential lesbian relationship with her sister-in-law, Wild Nights with Emily instead juxtaposes an augmentation of the poet's private life and its reinterpretation through the eyes of Mabel Todd (Amy Seimetz), the first comprehensive editor of her posthumous body of work. Mabel holds a rapt audience of women captive relaying her limited experiences with Emily, a woman she never met face to face but whose life she was desperate to infiltrate (and as Olnek portends, engaged in an adulterous affair with Dickinson's brother Austin, played by Kevin Seal).
The result of Dickinson's refusal to entertain Mabel would be reinterpreted through the latter's eyes as a testament to her spinsterhood and set the tone for the eventual mythology surrounding the author's supposed heterosexual dalliances with questionable suitors, such as the aged Judge Otis Lord (a character featured in a great bit as he collapses the narratives of Wuthering Heights and Jane Eyre). What follows is a reconsideration of Emily's romance with Susan Gilbert (Susan Ziegler) in a provocative examination on how history is recorded and imprinted upon the zeitgeist. Look no further than the publishers' resistance to Dickinson during her life time, who refused to title her poems. As Mabel points out in her explanation for exacting her imprint on Dickinson, "A title is a clue to the audience." Emily Dickinson wasn't interested in such intimations.
Notably, Olnek's Dickinson pic follows in the wake of Terence Davies' equally restorative A Quiet Passion (2016), which featured a formidable performance from Cynthia Nixon and was also unfortunately denied the accolades which should have solidified its merits. While Davies approached Dickinson's life from a broad, comprehensive approach, Olnek's script is more pointed and playful, a rueful, tongue-in-cheek lambast of the culture which constricted Dickinson and immediately sought to re-write her narrative.
Spending a little time in Emily's childhood to establish the decades-long connection between the two women, Wild Nights with Emily volleys between the perhaps not-so-secret afternoon delights of Emily and Sue (with Ziegler reminiscent of a Diane Salinger) and Amy Seimetz's well-intentioned but elemental Mabel, a woman whose claim to fame rests on the shoulders of Dickinson.
Shannon brings an expected yet tempered levity to Dickinson and many of the film's most comedic moments are her deft reactions to the stuffy interactions Olnek reimagines—perhaps none so fantastically comical as her response to a pompous Ralph Waldo Emerson (Robert McCaskill) giving an impromptu fireside lecture. Likewise Brett Gelman as Dickinson's posthumous editor Thomas Wentworth Higginson, oft referenced as a suitor the 'virginal' poet was potentially interested in during her lifetime.
Portrayed here as insincere and oblivious, Gelman's exchange with Shannon on the possibility of her work's publications allows for a mournful condemnation of what could have been possible for Dickinson had her agency not been so rudimentarily stymied. Other standouts include Jackie Monahan as the feline-obsessed sister Lavinia, and Lisa Haas (Olnek's lead in The Foxy Merkins) as the house maid.
But betwixt these varied interludes of escapist titillations and amusing repartees, Wild Nights with Emily has an underlying melancholic sigh, carried through the closing title cards providing the timeline of recuperation regarding Dickinson's private life, set to the tone of Seimetz's Mabel literally erasing the queer energies from her voluminous writing. From one of the unparalleled Dickinson's many poems, she wrote "There is no frigate like a book to take us lands away." Olnek accomplishes the same sentiment with an unexpectedly stirring portrait of this literary icon.
★★★½/☆☆☆☆☆