My Best Part (Garçon chiffon) | Review
Green Eyes, They're Crying: Maury Mines Sorrow in Tragicomic Debut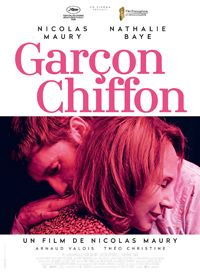 Actor Nicolas Maury crafts his own starring vehicle in My Best Part (Garçon chiffon) as a Parisian actor whose professional and personal lives suddenly crumble, partially thanks to his own strangulation of them. Co-written with Maud Ameline (Camille Rewinds, 2012) and Sophie Fillieres (If You Don't, I Will, 2014) and starring the esteemed Nathalie Baye, it's an interesting portrait of a queer artist and his doting mother which unexpectedly veers into examinations of unexpected character flaws instead of mining all the predictable tropes considering the narrative parameters. At the same time, Maury's directorial debut is a familiar composite of tropes from actors crafting material utilized specifically to highlight the prowess of actors, even if it sometimes detracts from the scenario.

Jeremie (Maury) is a working actor excited for an upcoming role in a film for the upcoming summer. But suddenly, he learns the director (Jean-Marc Barr) has recast the role with another, more 'appropriate' performer. Wallowing in this realization, Jeremie now has more time to throw negative energy into other aspects of his life, flaming the already intense jealousy he feels for his boyfriend Albert (Arnaud Valois). When Albert cancels plans to come over, Jeremie follows him to his lab where he works as a veterinarian, dismayed to find his boyfriend spending time with his assistant at work. Insinuating he's involved in an affair, the situation becomes the final straw for Arnaud, who suggests they break-up. Now, with his only prospect of work for the summer being an audition for a part in a play he feels he isn't entirely 'appropriate' for, Jeremie absconds from Paris to Limosin to stay with his mother Bernadette (Nathalie Baye). Her new assistant (Theo Christine) helps him through a period of stagnation.
Maury, who is often utilized as a flamboyant supporting player (2018's Knife+Heart – read review), actually crafts a leading role which is quite familiar to his role in the 2010 film Let My People Go!, directed by Mikael Buch and scripted by Christophe Honore. He's somewhat reserved and demure as Jeremie Meyer, an actor who's beginning to retreat inside himself after losing a highly anticipated film role and then throwing himself into the possibility of starring as Moritz in a stage production of Fred Wedekind's Spring Awakening—and both he and his mother joke at the potential perfection of his playing a 'tortured, suicidal teen.'
Some of the best, subtlest moments are between Maury and Baye, such as her suggestion they rehearse together, while the material isn't quite prone for mom and son bonding, per se. Baye is warm and supportive as Bernadette (the role was originally announced as Isabelle Huppert), keenly aware of her son's issues and somewhat at a loss as how to assist him beyond being there. Jeremie finds more comfort in her new assistant, the young and comely Kevin, whose potential heterosexuality throws a wrench into a pat romantic resolution for Jeremie.
Arnaud Valois as the long-suffering boyfriend of Jeremie feels a bit underutilized, although the reason for their demise is interesting in it showcases the overarching character flaw of jealousy is really the visible string of something more complex—the latter's lack of self-worth and his penchant for self-loathing—it is a characterization, at times, reminiscent of something like Dan Levy in "Schitt's Creek," in this regard (and maybe even some wardrobe choice).
If Maury allows the presentation of Jeremie an appropriate rumination on his issues, there's some shrillness in supporting cast performances (such as a screaming episode from Laure Calamy, playing his friend Sylvie, a fellow actor) which makes this reminiscent of some of Xavier Dolan's tendencies, who was also an actor turned director prone to showcasing larger than life histrionics in place of authentic characterization—a musical aside Maury conjures for himself, which was once a novel, beautiful French cinematic tradition (and resuscitated brilliantly but briefly by Honore in the 2000s), also feels a bit lacking in the emotional resonance it should conjure. While more often profound than not, sometimes quietly powerful in some off-the-cuff moments of self-examination ("Peace doesn't mean feeling nothing," after all), My Best Part is an unassuming debut from an underrated performer.
Reviewed virtually on September 9th – 2020 TIFF Industry Selects – 108 Mins.
★★★½/☆☆☆☆☆