If There Be Horns: Silverstein Succeeds with Discerning Debut of Rural Desperation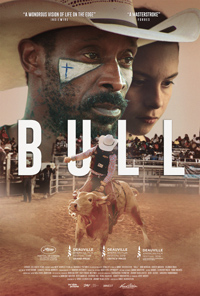 Likely to be compared to Chloe Zhao's 2017 breakout The Rider, director Annie Silverstein concocts a similarly authentic gritty realism with her narrative debut Bull, which focuses on an unlikely bond between two denizens of a desolate subdivision west of Houston. We've seen these archetypes played out before in a myriad of ways throughout cinema, the tale of a wayward teen from a broken home restored to a virtuous path thanks to the grace of a convenient savior.
Circumstance and propinquity are what unite the two troubled souls at the heart of Silverstein's film, which doesn't it shy from the harsh realities of their environment nor ascend to any real sense of righteous moralizing. Authentic and empathetic, its two lead performers transition simultaneously into dynamic characterizations which are both hard won and complex, championing a possibility for hope rather than a fleeting semblance of redemption.
Kris (Amber Havard), a fourteen-year-old white girl, is one of many wayward teenagers in her neighborhood of rural Houston. With her mother currently in prison and her grandmother less than thrilled to be sole guardian of Kris and her younger sister Chance (Keira Bennett), she distracts herself with seeking the attention of her peers, a group of teens preoccupied by the next time they can score some liquor. Having had unpleasant interactions with her neighbor Abe (Rob Morgan), a fiftysomething black man who is often away on weekends for his work wrangling bulls in the rodeo circuit, Kris decides to crash his house with her friends one night. However, Abe arrives to catch Kris in his home, which leads to an agreement determining she will clean up the mess she made. But during the process, Kris begins to get curious about Abe and his occupation, eventually ingratiating herself into his life and work, which he begrudgingly accepts. Their presence in each other's lives seems to be the only salve on the path to destruction they've both chosen.
What Silverstein balances quite beautifully is parity between the parallel worlds of her characters. Plenty of films exist showcasing troubled white children aided by black magic savior figures, characters defined solely by their sacrificial tendencies. If anything, Silverstein is arguably contemporizing the Fred Zinnemann adaptation of Carson McCullers' The Member of the Wedding, a film which brought fame to child star Julie Harris and an unforgettable performance from Ethel Waters. Except Silverstein gives the upper hand to Rob Morgan's character, a proud loner whose life is defined by his ability to stay involved with the rodeo circuit, a place where he's constantly reminded of his glory days as a rider. We come to learn he's sacrificed everything, even companionship, as exemplified by a pair of sequences featuring a lovely Yolonda Ross as a weary ex who still carries a flame for Abe but can't be involved in his continuous self-destruction. Morgan is the beating heart of Bull in a rigorous physically and emotionally exacting performance which gives the seasoned actor a chance to really stand out, neglected as he was for equally stellar work in Dee Rees' Mudbound (2017).
Newcomer Amber Havard has the less showy, perhaps more difficult task of projecting a character arc through an authentic portrayal of a shell-shocked fourteen-year-old girl whose home-life is anything but desirable. Reared by a weary grandmother while her mother's prison sentence keeps getting extended, Kris is influenced by the carefree toxicity of her equally wayward peers, who engage in the predictable behavior of rebellious teenagers, well-versed in casual sex and consuming any kinds of illicit substances they can get their hands on.
Havard's emotional register remains a flatline throughout most of Bull's running time—and Silverstein allows us the tiniest glimmers into her vulnerability, including a brief moment of levity after her first bull ride, and in one of the film's sole tear-jerking sequences during a remonstrance of her mother in a prison visit (to chart its effectiveness, one only needs to compare this to a similarly staged but facile scene in Laure de Clermont-Tonnerre's The Mustang, 2019). The racial disparities of Abe and Kris are present but not often a focal point—yet Silverstein doesn't shy away from despairing cultural sentiments. Early on, Abe attempts to manhandle Kris as she absconds from his home after she's trespassed. As a car drives by and he releases her, we can feel the palpable terror and frustration on his part.
And while Bull brings us to a moment of quiet resolve, in ways which could potentially be seen as improbable regarding her escape from the local inter-generational drug dealer, it also sidesteps absolute miserabilism—perhaps other paths are possible for both Kris and Abe, whose bond exemplifies facets of humanity most of Bull's comparable titles do not.
Reviewed on May 15th – Un Certain Regard. 108 Minutes
★★★½/☆☆☆☆☆