Tales of Ordinary Madness: Korine Courts Cutesy in Outlandish Stoner Comedy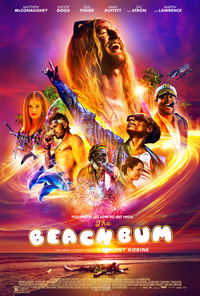 It's no fun being the designated driver, which is the position the audience of Harmony Korine's The Beach Bum is unfortunately relegated to. A somewhat baffling follow-up to the zany, similarly tropical themed Spring Breakers (review), there's no shortage of hedonism in this grating portrait of a genius stoner poet allowed a careless life of luxury explained by a fantastical fount of privilege. As if predicting the inevitable extreme of dysfunctional creative energies breastfed in the world of elitist one-percenters, Korine's latest is at least thematically familiar to his past filmography, like the Pleasantville (1998) version of his 2009 Trash Humpers. And yet, despite a fantastic cast, headlined by Matthew McConaughey (who conjures images of his infamous naked bongo drums experience just as he evokes Dazed and Confused, 1993), Korine's absurdist and episodic portrait of a marijuana pleasuredome lacks the magic its irreverent tone continually suggests. A little bit labored and at times gloriously wacky, lowkey attempts at provocation merely highlight how unprovocative it really is on every conceivable front.
As his twenty-two-year old daughter (Stefania LaVie Owen) gets married, revered cult poet Moondog (McConaughey), an unabashed stoner who revels in living by his own rules, leaves behind a marijuana idyll to attend the wedding. Reunited with his doting and extremely rich wife Minnie (Isla Fisher), with whom he shares an understood arrangement, their celebration is cut short when tragedy strikes. Suddenly Moondog finds himself in a situation where to maintain his lackadaisical lifestyle he must hunker down and write the great American novel he has promised Minnie he would finish for years. While plans don't go quite as expected, Moondog reenters the zeitgeist with his book of idiosyncratic poetry, The Beach Bum.
McConaughey is entertaining enough as Moondog, except, like most central stoner figures, extensive screen time tends to lessen their appeal and such is the case here. Clearly modeled after the genius archetypes established by celebrated literary heroes such as Charles Bukowski and Hunter S. Thompson, both men whose flagrant substance abuse and addictions informed their oeuvre, Moondog's talents aren't ever really showcased. What little poetry we do hear him spout comes off as shallow and adolescent despite the cult figure status he's apparently acquired.
One wonders if a little of Bukowksi couldn't have just been transposed upon him (like Maya Angelou's poetry strained through Janet Jackson in Poetic Justice, 1993). That the film is set in December of 1999 comes clearly into focus after Moondog is ejected from his laissez faire lifestyle, allowing for more eccentric personalities who don troubling fashion choices while other particular character details begin to make more sense.
A coterie of notables appear through Moondog's journey, some more memorable than others. If Zac Efron and Jimmy Buffett don't get much to do, Martin Lawrence at least makes something memorable as a Vietnam vet giving dolphin tours (but who can't differentiate between the friendly mammals and sharks). Jonah Hill gives a distracting performance as Moondog's smarmy agent, oozing mock southern gentility with a poker face (think Kenneth Branagh as a southern fried lawyer in The Gingerbread Man, 1998) while both Isla Fischer and Snoop Dogg, (as his friend and confidante Lingerie), feel underutilized. Ultimately, the rambling strangeness sometimes feels akin to Marco Ferreri's adaptation of Bukowski's Tales of Ordinary Madness (1981)—except Korine never really delves into any sort of degradation despite building a monotonous character who revels in dysfunction.
On a technical level, The Beach Bum is enhanced considerably by DP Benoit Debie, who lensed Spring Breakers and much of Gaspar Noe's cinema. Bruised skies of orange and purple juxtaposed with sparkly cityscapes and beckoning waterfronts framing these down and out or disconnected characters is like gazing upon the degrading leathery skin of tropical fruit. But never is The Beach Bum as compelling as such a promise suggests.
★/☆☆☆☆☆