Whisper Tales of Gore: Eggers Burns Trail to Valhalla in Viking Epic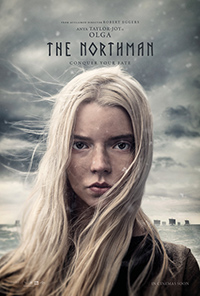 In keeping with the time-hoary notion of revenge being a dish best served cold is Robert Eggers' chilly Viking saga, The Northman. Adapting the legend of Amleth as a vessel for his continuing fascination with humans banished from culture or kin, the material appears to be hand tailored for Eggers, whose 2015 debut The Witch and 2019 followup The Lighthouse (read review) revealed a keen eye for horror tropes brandishing succulent nods to the perverse leanings of his cinematic inspirations. However, familiarity also breeds contempt, and Eggers taps into the template from which Shakespeare crafted his seminal Hamlet, albeit with a bit more brutality than the Bard.
A handsome cast (with a poster hellbent on reflecting it, a la Villeneuve's Dune) supplies the narrative with a hodgepodge of highlights despite the film resting largely on the shoulders of Alexander Skarsgard. Although neither as moody nor wacky as his first two films, it's another masterful achievement from one of the English language's most exciting contemporary arthouse filmmakers—-even if his latest would have benefitted from utilizing the source material's mother tongue.
In AD 895, Scandinavian Viking prince Amleth (Oscar Novak) witnesses his uncle Fjolnir (Claes Bang) murder his father, King Aurvandil (Ethan Hawke). Fleeing for his life, young Amleth witnesses his mother, Queen Gudrun (Nicole Kidman) abducted by Fjlonir, and he vows to return to avenge his father by killing his uncle and saving his mother. Years pass, and Amleth (now Alexander Skarsgård) has grown into a hulking warrior, aligning himself with a band of Berserkers. After taking over a village, he learns the enslaved survivors will be shipped off to the land of his uncle, whose kingdom was taken away by the King of Norway, diminished to lording over a significant farm land. Disguising himself as a captive, Amleth makes an immediate alliance with Olga (Anya Taylor-Joy), a witch enslaved in the same caravan. Together, they hatch a plan to escape once Amleth satisfies his blood lust.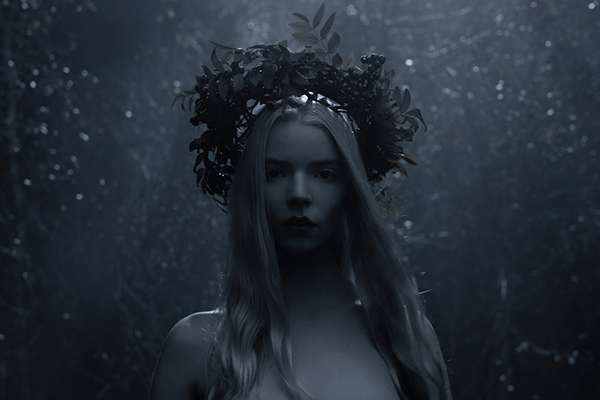 As Amleth, Skarsgaard isn't so brooding as he is maudlin. A key sequence with his mother in the third act solidifies something strangely original in Eggers' offering—his protagonist is something of a simpleton, struck dumb with naïveté thanks to the childhood trauma defining his reason to live. However, when Skarsgard is forced to carry the saggy mid-section of the film, alongside Witch alum Anya Taylor-Joy, distracting accent work and inert diversions tend to soften the film's initial gung-ho energy.
The inevitable reckoning demanded of the narrative adds to a feeling of estrangement in The Northman, an element missing from Eggers' earlier work, which established an uncomfortable intimacy with central characters losing their minds. This distance allows for a weariness to set in despite being bookended by wrath and rage. Still, we're a world away from the limitations of similar cinematics Vikings, such as the similarly titled The Norseman (1978), headlined by Lee Majors.
Sjon, fresh off another Icelandic provocation with 2021's Lamb, co-wrote this saga with Eggers, gravitating towards suggested intimacies and alliances rather than dialogue. Though speckled with moments of sprawling violence and chaos, such as Amleth's first adulthood sequences as a Berserker (a word derived from Bearskin, describing a cohort/gang much like feudal Japan's samurais), Eggers pitches his film as a world only consistent in its discomfort, highlighted by a fitting score from Robin Carolan and Sebastian Gainsborough.
His usual DP Jarin Blaschke may have more landscape to play with, but this is another world of dreary expanses where mud and blood commingle. Only the mystical flights of fancy provide an escape, such as the visualization of warriors ascending to the heavens, where Valhalla awaits, not to mention a ghostly battle for Amleth's sword. Nicole Kidman, though using an accent similar to her Russian lilt in Nine Perfect Strangers, is a standout as the vicious Gudrun, overshadowing the likes of Claes Bang or even her own Valkyrian descendent in the form of Anya Taylor-Joy.
Those hungry for Bjork's return to the screen (in her first cinematic appearance since Matthew Barney's Drawing Restraint 9, 2005) will likely be disappointed by her brevity, but both the Seeress and, later, the Sorcerer (Iceland's Ingvar Sigurdsson) strike commanding moments. Both Ethan Hawke and Willem Dafoe lend their particular brand of off-kilter energy in the film's first act (with Hawke representing a nice touch thanks to his own performance as Hamlet in Michael Almereyda's Gen-X contemporization in 2000). Eggers expertly conjures a barbarous world, but it's also an emotional void, where vengeance has been kept in an ice-box, unleashed to fulfill a relentless winter.
★★★½/☆☆☆☆☆