The Conversation: Producer Pascal Caucheteux
Producer Pascal Caucheteux has long been a fixture of French cinema (though in his early days he was an executive producer of Gregg Araki's work) and has fostered the careers of two reigning French auteurs: Arnaud Desplechin and Jacques Audiard. He's often a presence at Cannes, and has also worked with Christophe Honore, Claire Denis, and Jean-Francois Richet.
Caucheteux has also been a growing presence on international projects, besides continuing to work with Araki adding Ken Loach on several features, Cristian Mungiu, Andrey Zvyagintsev and Bohdan Slama. His projects have twice won Cesars for Best Film (Audiard's A Prophet and Xavier Beauvois' Of Gods and Men) while Zvyagintsev's Loveless nabbed a Cesar for Best Foreign Film. For the 2019 edition of the festival, Caucheteux is on hand with Arnaud Desplechin's Oh Mercy!, which will be the director's sixth time in contention for the Palme d'Or. Here's a look at five of Caucheteux's most golden producer credits:
#5. Loveless (2017) – Dir. Andrey Zvyagintsev
Another chilly tale of contemporary Russia from Andrey Zvyagintsev, this marital drama features a young couple in the midst of a bitter divorce. Blinded by their own misery, their neglected young son goes missing during an argument one day. Zvyagintsev won the Jury Prize with Loveless, his third time in the Cannes competition.
#4. A Christmas Tale (2008) – Dir. Arnaud Desplechin
One of Desplechin's finest achievements is this oddball dramedy featuring a stellar ensemble of French actors. Headlined by Catherine Deneuve (who previously appeared in his 2004 film Kings & Queen) as the matriarch of a sprawling clan who assemble one Christmas in the midst of her medical crisis requiring a bone marrow transplant, she's joined by Desplechin regulars Mathieu Amalric and Emmanuelle Devos, plus Anne Consigny, Melvil Poupaud, Hippolyte Girardot and Deneuve's own daughter Chiara Mastroianni as her outspoken daughter-in-law.
#3. Beyond the Hills (2012) – Dir. Cristian Mungiu
Romania's Cristian Mungiu followed up his 2007 Palme d'Or winner 4 Months, 3 Weeks and 2 Days with this period drama based on a true story about a modern exorcism which ends in death for a young woman who returns home from Germany to convince her childhood friend and lover to leave the convent she's joined. Leads Cosmina Stratan and Cristina Flutur won Best Actress Awards at the festival.
#2. You Were Never Really Here (2017) – Dir. Lynne Ramsay
Lynne Ramsay may have been unforgivably overlooked during the 2018 awards season for her work on You Were Never Really Here, but Joaquin Phoenix did take home a Best Actor award out of the 2017 Cannes Film Festival for his work in Ramsay's fourth feature in nearly twenty years. Recalling the gritty New American Cinema of the 1970s, Phoenix plays a war veteran working as a bounty hunter of kidnapped young woman who bonds with a young girl he saves from a sex trafficking ring.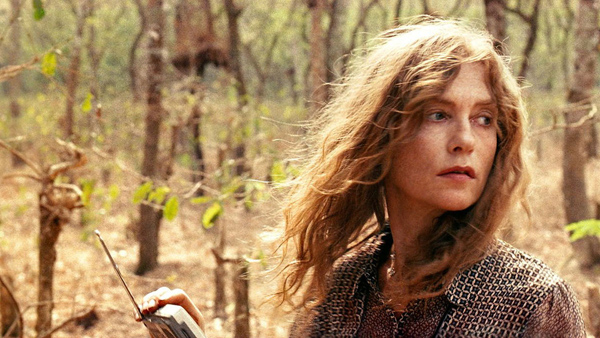 #1. White Material (2009) – Dir. Claire Denis
One of many unsung titles from Claire Denis (if one is counting lack of competitive film festival awards distinction) this Venice premiered exercise on post-colonialist woes is headlined by a terrific Isabelle Huppert as the stubborn owner of a dwindling coffee plantation. She's joined by Christopher Lambert, Nicolas Duvauchelle and Denis staple Isaach De Bankolé in this strenuous tale of a tenacious woman trying to keep it together amidst impending war and racial unrest in a Francophone African state.
Read Nicholas Bell's previous The Conversation: Producer profile instalments:
Rodrigo Teixeira (2019)
Martin Gschlacht (2019)
Michel Merkt (2018)
David Thion (2018)
Janine Jackowski (2018)
Jean Labadie (2018)
Christine Vachon (2017)
Olivier Père (2017)
Paulo Branco (2017)
Vincent Maraval (2017)
Megan Ellison (2017)
Sylvie Pialat (2016)
Saïd Ben Saïd (2016)