Tuesday Blus: Arturo Ripstein's Time to Die, John Trengove's The Wound, Etc.
This week's edition of Tuesday Blus includes the following titles:
The Wound (2017) – Kino Lorber / Maigret Sets a Trap (1958) – Kino Lorber / Maigret and the St Fiacre Case (1959) – Kino Lorber / Valdez is Coming (1971) – Kino Lorber / Heat and Dust (1983) – Cohen Media Group / Operation Petticoat (1958) – Olive Films / Time to Die (1966) – Film Movement / The Unknown Girl (2016) – Sundance Selects (DVD) / False Confessions (2016) – Big World Pictures (DVD).
The Wound (2017) – Film: ★★★½/☆☆☆☆☆ Disc: 3/5 ★★★/☆☆☆☆☆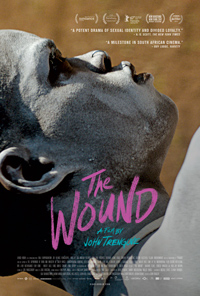 Arriving for the home entertainment market as it navigates the tricky Best Foreign Language deliberations for both the Golden Globes and the Academy Awards (as it is South Africa's official submission), John Trengove's debut The Wound is one of the year's best theatrical releases. Competing in Sundance and going on to win awards at a number of festivals (including Outfest), Kino Lorber distributed the title in a limited theatrical release in early September, where it was met with an enthusiastic critical response. From our Sundance review, the film is "a textured, intimate portrait of how doggedly holding onto archaic traditions allows for the majority to force the marginalized apart."
Kino Lorber includes in the film's extra features an interview with director John Trengove as well as his short film "The Goat." The transfer is presented in 2.35:1 with 5.1 Surround.
***
Maigret Sets a Trap (1958) – Film: ★★★½/☆☆☆☆☆ Disc: ★★★/☆☆☆☆☆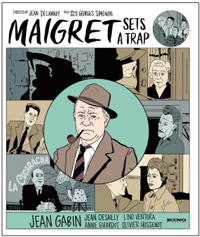 One of film noirs greatest originators, Belgian writer Georges Simenon, is perhaps best remembered for his famed police inspector Jules Maigret, a character never more serviceably adapted than by the iconic Jean Gabin. Tackled by director Jean Delannoy in 1958's Maigret Sets a Trap (aka Inspector Maigret), with dialogue written by the incredibly prolific Michel Audiard (father of director Jacques Audiard), Gabin appears as the world weary Maigret to track a serial killer ravaging the streets of Paris, killing a number of single women walking the streets at night (and not just prostitutes—the first kill is a violinist). Gabin's take on Maigret sets the gold standard (recently, Rowan Atkinson has been starring in television adaptations of Simenon, including a 2016 remake of this particular title). Jean Desailly appears as a hysterical cuckold, but the real treasure of the film is an impossibly young Annie Girardot as an incredibly unhappy housewife. And Lino Ventura appears in a supporting role as a fellow inspector. Paul Misraki (who scored Godard's Alphaville, 1965), concocts something worthy of James Bond.
Kino Lorber presents the film in 1.33:1 in 2.0 mono. Picture and sound quality are impressive in this update, but no extra features are included.
***
Maigret and the St. Fiacre Case (1959) – Film: ★★★/☆☆☆☆☆ Disc: ★★★/☆☆☆☆☆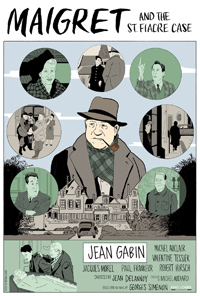 And as a must-see sequel to the successful Maigret Sets a Trap is the 1959 sequel Maigret and the St. Fiacre Case, which once again features Gabin and director Jean Delannoy. This time around, the increasingly tired Maigret returns to his rural hometown when he receives a letter from the countess of St. Fiacre (Valentine Tessier, who played Madame Bovary for Jean Renoir two decades prior in 1934) predicting her impending death. Soon after he arrives, she appears to have a heart attack in church—but Maigret knows better. Exploring her estranged relationship with her son, who arrives swiftly to collect the inheritance, a deepening mystery unfolds, and everyone in the countess' wake seems to have a motive for killing her. Less droll than its predecessor, this routine whodunnit is entertaining, if a bit like a chapter in a serial.
Kino Lorber presents the film in 1.33:1 in 2.0 mono. Picture and sound quality are also impressive in this update, but no extra features are included.
***
Valdez is Coming (1971) – Film: ★★/☆☆☆☆☆ Disc: ★★★/☆☆☆☆☆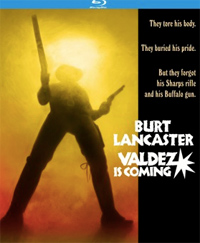 Kino Lorber resurrects another faded Western from a director whose early career segued directly into television. Like Kino's earlier re-release of Don Medford's 1971 revisionist The Hunting Party (review), the label presents Edwin Sherwin's Valdez is Coming (Sherwin would also direct 1971's My Old Man's Place but then commit exclusively to television for the next several decades of his career). Of course, the film's questionable casting, which features Burt Lancaster as a Mexican-American lawman who takes it upon himself to right the wrongs of a callous, greedy rancher, is enough to disregard the film in its entirety (not unlike Burt Reynolds in Navajo Joe or Charlton Heston as a Mexican named Miguel in Touch of Evil).
However, released the same year as Lancaster's persuasive performance in Michael Winner's Lawman, there's enough here to enjoy for fans of the Spaghetti Western (and many laughs to be had at the bronzer used on Lancaster and co-star Barton Heyman, who plays a Mexican named El Segundo). Hector Elizondo appears in a bit part, and Richard Jordan gives an over-the-top performance as a trigger-happy doofus. Susan Clark supplies a Glenn Close-ish element of femininity.
Kino Lorber presents the title in 1.85:1, and includes optional audio commentary from film historian Jim Hemphill.
***
Heat and Dust (1983) – Film: ★★★½/☆☆☆☆☆ Disc: ★★★½/☆☆☆☆☆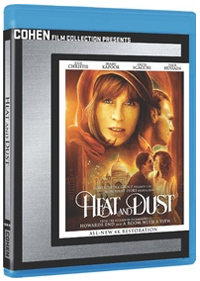 Re-released in theaters this past September as part of Cohen Media Group's restoration of the Merchant-Ivory catalogue, their early international hit Heat and Dust is also granted a significant home entertainment update. For our review of the film's theatrical re-release, it is "a carefully plotted melodrama which is both vicious in its demeaning treatment of women, but also the troubling implications of festering post-colonialist issues." —
Cohen's disc transfer features DTS-HD Master Audio with 5.1 Dolby Digital. As per their custom, a number of extra features are available, including a short film "Autobiography of a Princess," a feature-length audio track, an interview featuring Ismail Merchant, James Ivory, Ruth Prawer Jhabvala, and composer Richard Robbins. Plus, there's a segment featuring actors Greta Scacchi and Nickolas Grace, and a new conversation between James Ivory and writer/director Chris Terrio.
***
Operation Petticoat (1959) – Film: ★★/☆☆☆☆☆ Disc: ★★★/☆☆☆☆☆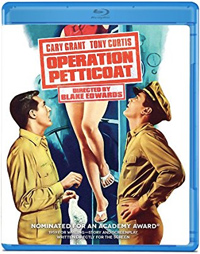 Blake Edwards' 1959 comedy Operation Petticoat is one of those nostalgic artifacts from the late 1950s, mostly thanks to its winning combo of Cary Grant and Tony Curtis as two diametrically opposed lieutenants aboard the USS Sea Tiger in the middle of WWII. However, the film's extremely problematic gender politics slide into such vitriolic misogyny it only highlights a blatant streak of latent homosexuality. Grant has the misfortune of being charged with manning a pink painted sub in ill-repair with Curtis as the suave lothario whose aim to is to marry into money. Things get a bit serious when they're driven out to sea by a surprise attack and then pick up a boat of five stranded army nurses, all who tend to test their fragile masculinity (with the exception of Curtis, who stars as a man who might swing every which way but loose).
Like the vicious treatment of the Bella Darvi character in Sam Fuller's 1954 submarine film Hell and High Water, the women here are treated as a curse (even though they serve the same cause). While the women's presence, and their particular accoutrements are what ironically serve as the saving grace for the USS Tiger, Operation Petticoat, a narrative told in flashback as Grant reads through his sea diaries, is woefully dated. The film remains, however, a significant entry from Blake Edwards' early filmography, arriving just before he would sail off into iconicity in the 1960s with Breakfast at Tiffany's (1961) and The Pink Panther films.
Olive Films presents Operation Petticoat as an entry in their growing Olive Signature label, which is geared towards classic English-language cinematic titles. Presented in 1.85:1, it's a pleasant package for this new high-definition digital restoration, and contains several bonus features, which include audio commentary from critic Adrian Martin. Also, "That's What Everybody Says About Me," a deliberation of the film with Jennifer Edwards and Lesley Ann Warren, "The Brave Crew of the Pettiocat," with actors Gavin MacLeod and Marion Ross, "The Captain and His Double," an examination of Cary Grant with Marc Eliot (author of Cary Grant: A Biography), and newsreel footage of Grant and the opening of the film at the Radio City Music Hall, as well as archival footage of the USS Balao, which doubled as the USS Sea Tiger.
***
Time to Die (1966) – Film: ★★★★/☆☆☆☆☆ Disc: ★★★½/☆☆☆☆☆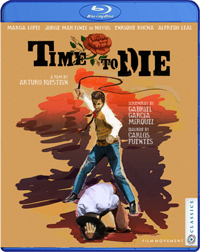 One of Mexico's most significant auteurs, Arturo Ripstein's filmography remains aggravatingly unavailable for easy consumption in the US. While his last feature, 2015's excellent Bleak Street is available on DVD courtesy of Kino Lorber, Ripstein's signature 1996 title Deep Crimson has remained one of his few enduring titles. But a restoration of his 1966 debut Time to Die, which was made when Ripstein was only twenty-one years old, premiered at the 2017 Cannes Film Festival in the Cannes Classics program and is now available on Blu-ray.
Written by Gabriel Garcia Marquez and featuring a host of notable Mexican actors, the film stars Jorge Martinez de Hoyos (who English speakers may recognize for The Magnificent Seven or "Lonesome Dove") as Juan Sayago, a man recently released from serving an eighteen-year prison sentence for murder. Returning to his hometown to start over, the two adult sons of the man he killed immediately set about in their plot of vengeance—but did they know the whole story of the altercation which led to their father's perhaps deserved killing? A brooding Mexican Western, Ripstein showed a flair for the perverse and the cruel from the starting gate. Also starring the prolific actress Marga Lopez (who worked with Bunuel and starred in the splendid 1951 Mexican version of Muchachas in Uniform) as the ex-fiancé of the imprisoned man, it features a host of characters consumed and suffocating within their socially expected confines (Lopez has locked herself away into a world which is no different than the birds she keeps in iron cages). Regrets and redemption come to a significant impasse in this beautifully realized first feature.
Film Movement presents this new 2K digital restoration in full-screen 1.33:1. Alex Cox is on hand for a video introduction, while Ripstein and actor Enrique Rocha provide audio commentary.
***
The Unknown Girl (2016) – Film: ★★½/☆☆☆☆☆ Disc: ★★½/☆☆☆☆☆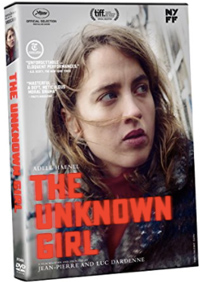 The tenth feature from Belgium's directing duo Jean-Pierre and Luc Dardenne, The Unknown Girl is their least decorated title since their 1996 breakout La Promesse. A chilly reception following its premiere at the 2016 Cannes Film Festival, which was akin to the lukewarm response of 2008's Lorna's Silence (which still took home a Best Screenplay Award at the fest), resulted in the Dardenne Bros. re-editing the film prior to its theatrical release (which saw seven minutes edited from the original cut). IFC/Sundance Selects was responsible for the US distribution, which netted a demure box office return of one-hundred-and-fifty thousand dollars following a limited theatrical release in September, 2017. From our review at the 2016 Cannes Film Fest: "despite some of the problematic plot mechanics of The Unknown Girl, it manages to be another overall poignant endeavor concerning humanity from the Dardenne brothers, albeit packaged in a film where they play safely and predictably."
Receiving only a DVD release, the lack of enthusiasm surrounding The Unknown Girl is evident in its packaging (the last two features from the Dardenne Bros., The Kid With a Bike (review) and Two Days, One Night (review), landed in the Criterion Collection). Considering they are a two-time Palme d'Or winning duo (for 1999's Rosetta and 2005's L'enfant), this release from Sundance Selects, presented in 1.85:1 in this no-frills release is a bit surprisingly bare bones.
***
False Confessions (2016) – Film: ★★★★/☆☆☆☆☆ Disc: ★★½/☆☆☆☆☆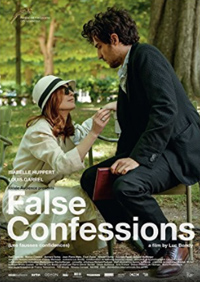 After premiering at the 2016 Locarno Film Festival, the last cinematic venture of famed theater director Luc Bondy, a modern take on Marivaux's False Confessions, managed to score a limited theatrical release stateside courtesy of Big World Pictures. Opening in mid-summer 2017, the title brought in only twenty-nine thousand despite hosting a first-rate French cast led by Isabelle Huppert. From our review, the film is "Playful, bizarre, and unabashedly theatrical, choice casting and an inescapable aura of finality imbues this curious last testament from Luc Bondy with an underlying streak of melancholy."
Big World Pictures release False Confessions on DVD only in 1.78:1 with Dolby Digital 5.1. No extra features are included.